To accommodate an ever-increasing demand for medical services, healthcare organizations often require a reliable source of available office space. Renting or being handed down second-hand office spaces may be suitable in some cases but there always comes a time when investing in allocated space appears to be the most cost-effective route forward. What are the demand drivers for medical office space though? Knowing those can help healthcare providers make informed decisions about how much and where to invest their resources so that they can provide satisfaction for all stakeholders involved.
CBRE reports that commercial real estate investors are competing fiercely due to the rising popularity of MOBs and their consistently high occupancy rates. These structures appeal to them because they generate steady income, are resistant to changes in reimbursement and regulations, and may be easily converted to accommodate new uses.
Key Takeaways
The demand for medical office space is largely determined by the size of the patient population in an area. Larger populations tend to require more healthcare services and, therefore, a larger facility or multiple medical office sectors.
The need for more easily accessible medical office properties that can accommodate patients and their families has expanded in recent years, and this is one of the most significant changes.
Medical office space is popular among investors because of its long-term stability and low vacancy rates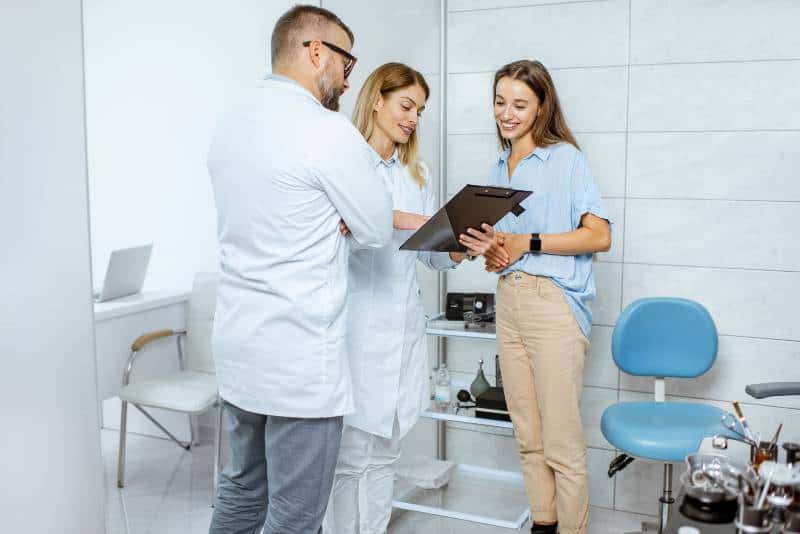 Medical office space is defined as the area used by a medical provider for clinical or administrative purposes. It is usually located within a hospital, clinic, or another healthcare facility.
The demand for medical office space has increased over time because more people are seeking healthcare services from private providers instead of government-run facilities. The growth in demand for these services cannot be met by public hospitals alone, which is why private providers have stepped up their efforts to provide quality services at affordable prices.
Demographic factors
Demographic factors have a direct impact on the demand for medical office space. Aging populations are more likely to need healthcare services, and so there is increased demand for medical offices. In addition, the growth in insured individuals through healthcare reform will also drive up the demand for medical office real estate as more people have access to insurance coverage.
In addition, the lack of medical office buildings to service aging populations is another factor that will increase the demand for medical office space.
As more and more people age into Medicare eligibility and beyond, there will be a smaller pool of available physicians who can serve their needs. This will lead to increased demand for medical office space in order to accommodate those patients who need care but do not have access to their own physicians or other healthcare professionals.
Increased focus on preventative care
The demand for medical office space is influenced by a number of factors. One of the most significant is the increased focus on preventative care and early detection, which requires more accessible medical office space that can accommodate both patients and their families.
In addition, there has been an increase in demand for specialized health care services such as occupational therapy, physical therapy, and dental care, which require separate facilities.
Why Are Medical Office Spaces Attracting Investors?
Suitable Long-term Investment
In the past, investors have considered investing in real estate as a short-term strategy. However, this has changed due to the increase in rental rates and the overall value of office buildings.
Medical office spaces offer a unique opportunity for medical office investors to make money over a long period of time. Medical offices are not only attractive because they are located near hospitals but also because they are highly productive and profitable.
Investors can expect to earn returns on their investments of between 4% and 10%. Additionally, these spaces offer better rental rates than other commercial properties due to their location and the quality of services provided by the tenants.
More Demand
The medical office market has been on a steady rise. As more and more doctors, dentists, and other healthcare professionals are opening their offices, they are looking for spaces that are comfortable, modern, and well-designed.
As a result, medical offices have become one of the most popular office spaces for investors in recent years. These office spaces offer high-quality living and working environments. They also provide excellent opportunities to meet a wide range of investors who want to make money from real estate investment.
Better Risk-Adjusted Returns
The goal of an investor is to generate better returns with less risk. In other words, they want to earn more money with less risk. The risk-adjusted returns concept will help investors achieve this goal. By understanding how businesses can be structured to create more value, investors can improve their results and reduce their risks at the same time.
Medical offices have proven to be one of the best investments for investors because they offer stable cash flows with minimal risk, making them a very attractive investment option for doctors and lawyers who want to diversify their assets.
Acquisitions
When compared to other real estate asset classes, the buying and selling of medical office buildings are typically less active. Nonetheless, there is renewed interest in incorporating MOB facilities into existing portfolios as a result of the recent consolidation of the tenants who occupy medical office properties.
The MOB tenant base is now more creditworthy as a result of the consolidation of medical practices, many of whose owners are retiring doctors looking to sell their operations.
Larger healthcare systems with stronger financial footing are now writing the rent checks in place of Dr. Joe. Many insurance firms, like United Health and Blue Cross Blue Shield, are snapping up physician groups and buying out their leases with lightning speed. Properties owned by MOB investors are now occupied by high-paying institutions, increasing the value of their investments.
As a result of widespread physician group consolidation, there has been a rise in M&A activity, as both large and small MOB investors look for "secure" places to put their money. Knowing that the leases are backed by larger, higher-credit, more secure healthcare systems and groups, investors are eager to purchase these properties, typically at a premium.
The increasing demand for retail locations leased by major national chains like CVS and Walgreens is analogous to this situation. Investors in multi-unit buildings may now rest easy knowing that renters with similar credit histories are backing their leases and paying their rent.
Predictable Revenue
Tenants in MOBs often stay in the same location for years at a time. They usually decide to stay because they want to be near their existing patient networks and other resources. The typical medical user, which includes operating rooms, physician offices, and screening centers, incurs much higher operating costs than the average office renter. Because of this complication, medical tenants often choose longer lease terms.
These long-term leases provide investors confidence in the industry by indicating a steady and reliable flow of profits. Over eighty percent of medical tenants renewed their leases, indicating that these revenue streams are likely to be highly stable year over year.
Reliable Tenants
If you're a medical office space investor, having reliable tenants is the best thing that could happen to your business. A good tenant is one that pays their rent on time and maintains a clean, well-maintained facility. They also have good relationships with other businesses in the area and contribute to the community.
In investing in a medical office, you don't have to worry because having a medical practitioner as your tenant has all those good qualities mentioned above.
Aside from that, medical practitioners are great tenants for medical office spaces because they have a longer-term commitment to the space, which means less turnover and more stability. They also tend to be higher on the financial spectrum than other tenants, which means that their rent will be more consistent.
Stability
Investors are attracted to medical office space because of its stability and longevity. Long-term growth can be achieved by choosing a location that is attractive to healthcare providers and patients, as well as having easy access to transportation routes and healthcare facilities.
In addition to the benefits of stability, investors want to ensure that their investment will meet their specific needs. For example, they may want to know that the building has enough room for expansion or that there is plenty of parking available in case they need more than one vehicle. More importantly, this stability also means that if there is a recession, your property will not go down in value as quickly as other types of real estate might have done during that time period. This makes it an attractive investment for investors who are looking for something safe and secure when making their investments.
What You Need to Know Before Investing in Medical Offices
Location is the key to success
Investors should take this into consideration when looking for office space. The location of the property can make a significant difference in its value and potential earnings.
Thus, if you are interested in buying a medical office building, then it is important that you check out its location before committing yourself to purchase it. It is also important that you consider whether or not there are any other buildings nearby that could potentially be bought as part of a joint venture or partnership with another investor.
The location of your office space will affect how much money you can make from it over time and how much rent you will charge for your tenants. If your building is located in an area that does not have many other businesses nearby, then there may be less competition for customers and tenants who want to rent space from you. In turn, this means that you may be able to charge more rent than usual because there are few other options available at this time period.
Take into account the tenant's profile
If you're thinking about investing in a medical office building, you'll want to take into account the tenant's profile. The type of tenant you're looking for will have an impact on the overall success of your investment. For example, if you're looking at a dental practice, then it's important to consider whether or not the dentist has significant experience and clients. If not, then you may have trouble achieving positive returns on your investment.
You'll also want to consider whether or not there is already competition in the area for that specific type of tenant. If so, then there may be a limited upside for your investment as well.
Don't overlook the size of the office
It's not just the size of the office that matters, but also the location and what you can do inside. A bigger office may have more space for patients to wait, but it could also be more difficult to get around, especially if it's located in a busy area.
And while having more space can be nice, it's important to remember that it doesn't mean your business will thrive. In fact, if you want your medical office to succeed, you need to make sure that your soon-to-be tenants will feel comfortable and safe working there.
Factors driving demand for Medical Office Space FAQs
How can I make my medical office more efficient?
If you're a doctor, make sure that your staff is well-trained and up to date on the latest medical information. If you have an administrative assistant or receptionist, train them to be friendly with the patients and always help them in any way that they can. Make sure that your staff understands how important it is for them to be courteous and professional at all times when dealing with patients.
Additionally, make sure that your staff uses proper communication techniques when dealing with patients. It's important for them to be able to tell if a patient needs more information or if he or she has any questions about his or her treatment plan. You should also make sure that everyone knows what their job duties are and what their responsibilities are as far as communicating with patients goes.
Aside from that, your staff should have access to all of the tools they need so they can do their job efficiently and effectively. This includes computers, printers, fax machines, phones, and paper supplies like pens and blackboards. More importantly, an organized medical office space can be a way to use your medical office more efficiently than a messy one.
What is the difference between a medical office and a clinic?
The difference between a medical office and a clinic is that in clinics the doctors are not responsible for managing all aspects of the patient's care.
Clinics are staffed by a physician, nurse, or another health professional who provides individualized care to patients with a specific condition or problem. Clinics also provide services such as physical exams, health systems, routine care and follow-up visits.
A medical office is staffed by a physician who manages all aspects of your treatment plan. In addition to providing you with treatment recommendations, they will also take care of any necessary paperwork and arrange for referrals where needed.
What is the purpose of a medical office?
The purpose of a medical office is to provide high-quality medical care to patients. The medical office provides physical examinations, diagnostic testing, and treatments for patients with common ailments that can be treated by a physician. The medical office will also provide prescription medications and other forms of treatment as needed.
The medical office serves as a liaison between patients and doctors, providing information about their conditions, symptoms, and treatment options.
Are medical office buildings a good investment?
The answer is yes, but it depends on the type of property you are investing in. The first thing to consider is whether or not your investment property is located in an area where there is demand for medical offices. If you own a medical building in an up-and-coming neighborhood where the demand for medical offices continues to increase, this type of property will continue to grow in value and make you money over time.
However, if you own a medical building in a less desirable location with fewer potential tenants, then your investment could be lower across the board.
Why invest in medical office buildings?
The first and most obvious reason is that they provide a good investment opportunity. Medical offices have a long-term outlook, as they are designed to be occupied for years on end. They also have low vacancy rates, which makes them attractive investments compared to other commercial properties.
Another reason is that these buildings are great locations for patients who need medical care. They're usually located close to hospitals or other skilled nursing facilities, so the patient doesn't have to travel far for treatment. Plus, there are often free parking spaces available at these locations as well.
Conclusion
The medical office space market has seen tremendous growth in recent years. This can be attributed to the fact that hospitals, clinics, and other healthcare facilities are expanding their operations. The increased demand for medical office space is expected to continue growing at a rapid pace over the next few years.
Because of this, hospitals are expected to shrink in size and concentrate on emergency care for the most critically ill patients. Construction of medical office buildings, healthcare retail, and ambulatory and outpatient care centers will increase in the community.
I hope this blog post has been helpful in giving you some things to consider. If you have any questions or would like to schedule a free consultation, please don't hesitate to give me a call.