Do you need industrial space in the LA area, but aren't sure where to start when it comes to leasing? You're not alone; understanding industrial leases can be daunting and time-consuming. That's why we've put together this blog post to provide essential facts and tips about leasing industrial spaces in Los Angeles. From information on market rents and how to find a good deal on your lease all the way up through reviewing terms of contracts, this is your guide to leasing industrial space in Los Angeles Ready? Let's dive in!
With an average cost of $15.11 per sq ft, industrial leasing in Los Angeles can provide you with the perfect space to support your business needs! The price for renting these facilities will depend on numerous factors like area, size, and amenities – all tailored specifically to fit what you require.
Key Takeaways
Finding the right industrial space to rent in Los Angeles doesn't have to be overwhelming — with some knowledge of the market and key strategies, you can secure an ideal lease for your business.
Do research into current market rents so that you know what's a fair price; look out for any discounts or incentives from landlords; carefully consider each clause outlined in contracts before signing them off on, and also make sure zoning regulations won't affect your use of this particular space.
To learn more about leasing commercial real estate in LA, get expert advice from local professionals—they'll help guide you toward finding exactly what works best based on all these factors!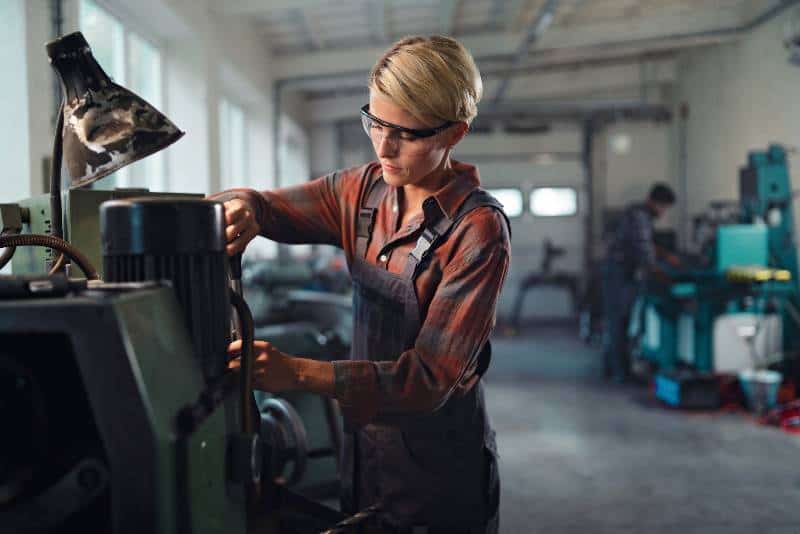 Industrial properties in Los Angeles are an invaluable asset for businesses looking to start or expand activity within the city. If you're new to leasing industrial space, our guide – LA Industrial Space Leasing: Essential Facts & Tips – is packed with essential information and tips that will help give your business a boost! From knowing what types of activities suitable properties can be used for, right through to understanding the principles and processes involved in leasing them; this comprehensive primer has everything beginners need when it comes time to make their first property investment.
Understanding Industrial Space in Los Angeles
Los Angeles offers an amazing array of industrial spaces that can accommodate any need. With a variety of neighborhoods, regions, and prices, anyone can find the perfect industrial space that fits their budget and meets their business goals.
Types of industrial spaces
The types of industrial spaces in Los Angeles are varied, with many depending on the type of industry. The most common types of industrial space are:
Manufacturing buildings
Manufacturing buildings provide the foundations necessary for a successful business to flourish. Ranging from single-story dwellings, all the way up to expansive multi-level factories – whatever production needs are required of them – these dependable structures house materials and products essential for many operations across industries.
Warehouses
Warehouses play a vital role in the economic wheel, offering secure storage for items that are destined to be sold or used. From food supplies ready for distribution to construction materials and finished products – warehouses provide safe havens while they await their next steps toward consumers' hands. There are many different types of warehouses, including:
General Warehouses – General warehouses are warehouses that store a wide range of materials. They have many uses, including storing products before shipment or storing excess inventory from other warehouses. General warehouses may also be used to store finished products in their original packaging until they can be shipped to customers.
Cold Storage Facilities – Cold storage facilities are warehouses that keep their goods at a steady temperature and humidity. This is done to ensure that the goods won't spoil or go rancid. Cold storage facilities are very similar to traditional warehouses, but they have some distinct differences in their construction and uses.
Hazardous Material Warehouses – Hazardous Material Warehouses are warehouses that store highly hazardous materials. These materials include chemicals, pharmaceuticals, and other materials that can cause harm if they are not handled properly or stored in the correct conditions.
Specialized Warehouses – Specialized Warehouses are warehouses that are used to store a specific type of product. The warehouse is designed to store its type of product so that the storage space is dedicated to one particular category of products. Specialized warehouses may be used for art storage, electronics, wine storage, or any other kind of product.
Distribution Warehouse – The distribution warehouses are warehouses that store products that are in transit from manufacturing to retail. The products are stored in a way that allows them to be easily transferred between different distribution points, such as from one distribution center to another.
Flex buildings
Flex space combines both office space and warehouse areas into one building, making it easy for companies to move around their inventory as needed without needing to purchase additional buildings or move equipment from one location to another.
Types of Flex buildings
Warehouse/ Office Building – Warehouses in this type of building that is used for storing goods and other materials. As a type of flexible space, warehouses can be used for a variety of purposes, including retail, manufacturing, and storage. These also consist of administrative functions, conference rooms, and production areas.
Showroom/Warehouse Combination – The showroom/warehouse combination is a type of flexible space that combines both the showroom and warehouse functions in one space. This can be particularly useful in the case of large manufacturing companies, where a single building may house both the sales team and production team.
Data Centers
Data centers are a type of industrial space that houses and protects computer hardware, software, and other electronic equipment. They range from small, standalone facilities to large-scale data centers that cover hundreds of acres. Data centers are often located in remote areas near power plants or electrical substations because of their high power requirements.
Research and development facilities
Research and development facilities are a type of industrial space that is designed to support the research and development process. They are used by companies to test new products, technologies, and strategies to improve their business. The research and development facilities are also used to create new products for sale or use by consumers. That's why these facilities are considered a vital part of industrial space.
Truck Terminals
The truck terminals are an industrial space that uses the trucking industry as a central focus. It is a place where trucks can be stored, repaired, and loaded up with cargo. The truck terminals allow trucks to be stored in an efficient manner, which helps save money on fuel and time spent transporting goods. The terminals also allow for the quick loading of cargo onto larger trucks, which makes it easier for companies to move their goods around quickly and efficiently.
Showrooms
The Showroom as an Industrial Space is a space that is used by the company or business to display its products, services, and other items. It is usually located at the entrance of the building where customers can view them easily. The Showrooms are also used to hold various events such as exhibitions and seminars where people come to learn about new products or services offered by the company.
Location and accessibility
When it comes to industrial space, location, and accessibility are key considerations. After all, having easy access to transport lines for quick delivery of products is paramount – as well as being close to customers who can get your goods with ease. Additionally, any industry must have skilled manpower available locally to keep production running smoothly without delays or hiccups along the way.
Industrial spaces located near their source of raw materials and components not only reduce transportation and operating costs but also help keep maintenance expenses low. Moreover, having a well-connected industrial space ensures that companies are more effectively collaborating to develop products and services quickly for customer satisfaction.
Infrastructure and amenities
The industrial space is the heart of any company. It is where employees go to work and where companies do their business. It has many amenities that make it a great place to work. The following are some of the most important amenities that every industrial space should have:
1. Lift access – To provide adequate access to the various parts of an industrial facility, lifts are often needed. Lifts are also needed for maintenance purposes as well as for emergency evacuation in case of fire or other emergencies.
2. Fire safety system – this is an essential part of every industrial space because it can prevent fire and smoke from happening in the warehouse or factory. If there is no fire safety system, then there is a chance that the company will lose the products or machinery inside the warehouse because of fire or smoke.
3. Emergency exits – Emergency exits are very important in an industrial space. It is because they can help to evacuate the building in case of an emergency. In case of an emergency, people will be able to get out of the building safely.
4. Environmentally-friendly systems – Industrial spaces should have environmentally-friendly systems because this will help with energy conservation and reduce costs associated with operating facilities within an industry.
5. Adequate parking space – Parking is the most important consideration in industrial space planning. Parking space is usually required to accommodate the vehicles that carry out work in the industrial area. The type of parking space required depends on the type of business and its nature.
6. Comfortable break rooms – The break room is the room that everyone uses for those breaks, though some workplaces may have more than one. With this, the break room should be comfortable, informal, and relaxing. It should also have a good view of the workplace and be located in an area where it can easily be accessed by everyone.
7. Clean comfort rooms – A clean and comfortable working environment can be attained by providing employees with separate areas for smoking, drinking water, and rest. These areas should be well maintained and cleaned regularly. The area where the employee is required to work can also be provided with air fresheners to make it smell good.
8. Conference facilities – Conference facilities are essential in the life of an industrial building. The conference room is a place where people come together to discuss various issues, and it can be a very powerful tool for business growth.
Therefore, the conference room should be well-designed, with plenty of natural light and a good sound system. It should also have a large table and comfortable chairs to accommodate all kinds of people.
9. Internal roads – Internal roads in industrial spaces allow for deliveries, parking, and access to offices, as well as allowing employees to travel between different buildings within the same building. It also helps reduce costs associated with waste collection and maintenance as well as increase safety by reducing the risk of collisions with pedestrians.
Zoning regulations
Zoning regulations are a set of laws that define how a particular land should be used by people. The purpose of the zoning regulations is to provide a clear and consistent framework for land use planning that promotes community development while maintaining a safe environment for residents and visitors alike. The Los Angeles City Planning lists the required zoning in the city.
The city's planning commission is responsible for establishing the general plan for development in Los Angeles. In terms of industrial spaces, they must adhere to all of the city's zoning regulations before construction can begin:
Manufacturing:
Restricted Industrial – A building should stand tall and proud, featuring an unlimited number of stories that reach toward the sky. For lots, it'll have a depth of 5 feet on all sides – frontage included! That same measurement will be applied to the side and rear for residential uses.
Limited Industrial – Architecturally speaking, residential builds should be designed to have a consistent façade no matter how many stories tall they are. This way, each building can remain aesthetically pleasing and true to its original vision.
Restricted Light Industrial – This light industrial building will be expansive, offering multiple floors and ample width for lots – up to 5 feet in the front of each story with a full 15-foot depth.
Light Industrial – This type of structure allows for unrestricted numbers of stories at equivalent dimensions as those typically used in multiple dwellings. With hotels, lodges, hospitals, or any other kind of residential usage being prime examples – you'll find this could be just what your project needs.
Heavy Industrial – With heavy industrial in mind, architects are being tasked with creating structures that can potentially reach unprecedented heights – buildings of seemingly limitless stories.
Areas In Los Angeles With High Industrial Space Concentration
Downtown LA
Few cities in the world can offer all that Los Angeles can, and Downtown LA is no exception. As one of the most densely populated areas in Los Angeles, Downtown LA offers an array of industrial space opportunities for business owners.
Businesses from high-end luxury fashion to creative media ventures alike have taken advantage of Downtown LA's fast-paced commercial property and environment. With some of America's largest financial, entertainment, and cultural centers right outside your doorstep, the sheer potential for an innovative industry that Downtown LA provides is vast.
Vernon
Located south of Downtown LA, this city has long been known for its concentration of warehouses and industrial spaces. Many business and building owners take advantage of this hub for their operations, including those that involve food processing, metal fabrication, and textile manufacturing. With over 1,800 businesses residing in Vernon, there are plenty of possibilities to explore for those seeking quality industrial space.
South LA
South LA offers potential purchasers or lessees an ideal mix of convenient transportation and well-situated industrial spaces. It is well known for its automotive, aerospace, and logistics businesses, and brims with amenities that make it a perfect place to establish an industrial space. Whether you are looking for small spaces or larger industrial-based operations, the South LA area has options to suit your business needs. Whether you are interested in leasing or replacing, South LA should be your first stop when searching for the perfect industrial space.
San Fernando Valley
If your business is looking to move or expand into an area with a high industrial space concentration, consider the San Fernando Valley in Los Angeles. To the north of downtown LA, there is a range of industrial areas that offer both leasing and purchasing options, suiting a variety of different needs.
The San Fernando Valley provides businesses with a truly unique backdrop for their growth, with leasing commercial space in abundance and fantastic transport links to other areas of the city. This commercial lease hub has attracted industries from all fields, from entertainment to aerospace and technology. Those offering commercial leases in this area have the upper hand in providing access to the resources businesses need. For companies looking for their next step, the San Fernando Valley may be the perfect fit – boasting plentiful commercial space along with reliable transport networks. It's an area that is well-equipped to cater to diverse industry needs.
East LA
The East LA area is home to an abundance of industrial spaces for tenants and buyers looking for an opportunity in the Los Angeles region. The diverse opportunities in Boyle Heights and City Terrace range from food processing to clothing manufacturing to metalworking, among other industries.
When selecting the right spot for your business needs, it pays to consult with local real estate professionals who can guide you to find commercial space, help with the leasing process, and lease agreements, help you with property expenses, as well as in determining which areas are most suitable. With their help, finding commercial real estate space in one of the city's prime locations will be smoother than ever.
Determining Your Industrial Space Needs
Assessing your business requirements
When determining your industrial space needs, it's important to understand the requirements of your business. Businesses vary in size and complexity, so it's important to assess what you need from your space before deciding how much space and how many different areas you'll need.
Your business may require a variety of different things from its space–from meeting rooms to storage facilities and office spaces. If you don't have enough space for all of these things, then it's likely that one area will be underutilized or just not used at all. This could lead to wasted money and time as well as potentially damaging relationships with customers. When you're determining your industrial space needs, it's important to assess your business requirements.
Determining what kind of space you need will help you determine how much space you need and where it will be located. This can help you determine whether or not your current facility is meeting the needs of your employees, as well as if any improvements can be made.
It's also important to consider how much money you want to spend on this project. Depending on what type of space you choose, there may be different costs associated with each option. For example, if you are determining the business requirements for building a warehouse, clear stack height, total square feet, dock doors, dock equipment, electrical requirements, building shape and footprint, truck yard, floor condition, safety and fire, and many more should be taken into consideration.
Estimating the required size of the space
Space requirements for your project are dictated by the functional requirements of the project. These can be difficult to determine in the beginning stages of a project, but you must do. For example, if you want to know the total storage capacity of your warehouse, you have to first calculate the complete square footage of your warehouse. Next, is to subtract the total square footage of space that is being utilized for non-stage purposes. Then, you must know the clear height of the building. The last step is to multiply the total square footage of usable space by the building's clear height which will help you know the storage capacity of your warehouse in cubic feet.
Identifying the required amenities and features
If you're looking for industrial space, it's important to identify the required amenities and features. A good industrial space is more than just a place to work, it's an environment where employees can thrive. It's important to look at your current situation and identify what you need to reach your goals. The following are some of the most important amenities and features of an industrial space:
Easy access to parking and transportation
Clean comfort rooms
Have emergency exits
Sufficient storage areas
High-quality machinery or equipment
Security and in-house fire protection systems
Identifying Potential Industrial Spaces
Searching for industrial spaces
Searching for industrial spaces is important because it helps you identify potential industrial spaces that may be suitable for your business. If you do not know where to look, you can use various resources such as newspapers and magazines, online databases, and real estate agents. You can also look for reliable online resources such as Loopnet, Crexi, and CoStar.
Engaging with real estate agents and brokers
It's important to engage with real estate agents and a commercial real estate broker as they are well-versed in the local market and can help you identify suitable locations. Real estate agents and brokers know how to find the right spot for your business. They have access to valuable information about the local market and can help you identify suitable locations.
In addition, they can provide some insight into how the building will be maintained and what policies are in place to protect your assets. This knowledge is priceless when looking for a new space that will suit your needs.
Reviewing property listings
Property listings are a great place to start when you're trying to find industrial space in your area. They can provide you with a variety of information about the property and its owner, which can be used as a starting point for finding out more about the space and who might be willing to lease it or sell it.
Property listings also tend to contain useful information about the neighborhood, such as crime statistics, property taxes, and zoning regulations. This information can help you decide whether the location is an appropriate fit for your business.
Guide to Leasing Industrial Space in Los Angeles FAQs
What is the typical lease term for industrial space in Los Angeles?
On average, leasing an industrial space in Los Angeles is approximately $15.11 per square foot – a great opportunity for businesses to get their operations up and running quickly.
How much does it cost to lease industrial space in Los Angeles?
According to loopnet.com, Industrial Space in East Los Angeles can be a great investment opportunity, with an average cost of $20.55 per square foot. However, this price point will vary depending on factors like the area's location and amenities; when considering your options for industrial space leases here different variables should all be taken into account to ensure you get maximum value from your lease agreement.
What amenities and services are typically included in industrial spaces in Los Angeles?
Industrial spaces in Los Angeles can be found in a variety of locations, such as industrial parks and industrial areas. Some of the common amenities and services that are typically included in industrial spaces include:
Electricity
Water
Lighting
Elevators
Conference rooms and other meeting spaces
Storage facilities
Security systems
Transportation
Lounges
Comfort rooms
Parking spaces
Are there any special zoning regulations that apply to industrial spaces in Los Angeles?
There are no special zoning regulations that apply to industrial spaces in Los Angeles. In Los Angeles, industrial properties are subject to the same zoning regulations as manufacturing properties.
Do I need insurance to lease industrial space in Los Angeles?
Insurance is not required to lease industrial space in Los Angeles. However, it is best practice to take out a property insurance policy on your building and equipment if you have the resources and budget to do so. Protecting your commercial real estate investments is critical. Take a look at this article for an in-depth explanation of why insurance coverage can be absolutely essential – it could make all the difference when deciding what type and how much protection best suits you.
Conclusion
As you can see, there are many factors to consider when leasing industrial space in Los Angeles. But don't worry, we're here to help. We have a wealth of experience and knowledge about the industrial real estate market in LA and would be happy to share it with you. So please, don't hesitate to reach out. Give me a call or schedule a free consultation today. I'll be more than happy to answer any questions you have and help you find the perfect space for your business needs.