Leasing medical equipment can be a great way to get the equipment you need for your business without breaking the bank. However, there are a few things you need to watch out for when leasing medical equipment. In this blog post, we will discuss 17 common medical lease mistakes and how to avoid them. By avoiding these mistakes, you can ensure that your lease goes as smoothly as possible!
Medical lease mistakes are common for both landlords and tenants. It's important to know what these mistakes are so that you can avoid them and make the most of your investment.
Key Takeaways
It is important that you read your leasing agreement carefully before signing it. Make sure you understand all of the terms and conditions of the agreement and that you are comfortable with them.
Be sure to research all potential commercial real estate leases before deciding.
Look at the location, size, features, and amenities of the space to make sure it meets your needs.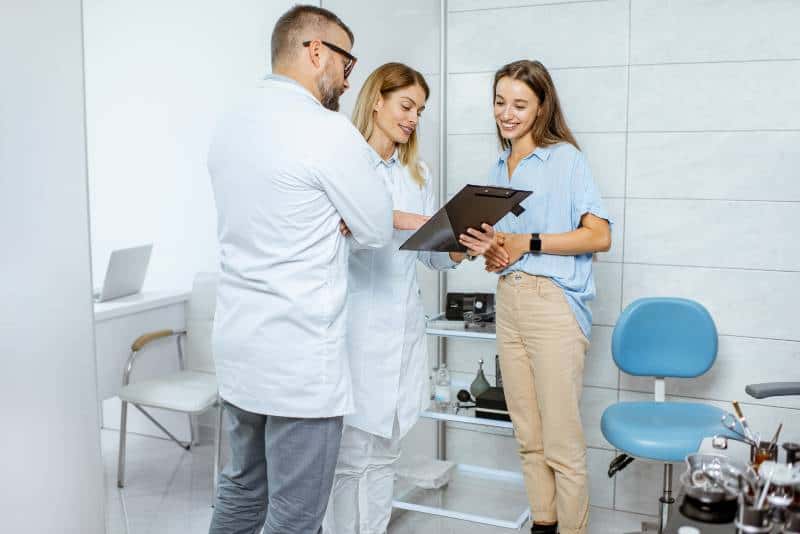 The most common reasons for medical lease mistakes
When you're looking to rent a space in a medical building, it's important to make sure you're getting the best deal possible. As with any large purchase, it's easy to let your excitement over the potential of your new business space get the best of you and forget some important details. We've compiled a list of the most common reasons for medical lease mistakes so that you can avoid them as much as possible when looking for property.
17 Medical Lease Mistakes to Avoid
Here are the most common reasons for medical lease mistakes:
1. Not Including Exclusive Use Provisions
Exclusive use provisions are often included in commercial leases, especially when there are a large number of tenants.
A tenant with an exclusive use provision may use a property for one specified purpose (such as medical offices, restaurants or the sale of electronics), while other tenants cannot.
While both landlords and tenants understand what exclusive use provisions are, they often overlook them during lease negotiations. If not written carefully, these agreements can cause trouble for everyone involved.
2. Don't Have an Escape Clause
One of the parties to a contract may include an escape clause, which relieves that party from liability for nonperformance if certain conditions are met.
If a tenant is unable to use the property for the purpose specified in the lease, an escape clause allows them to terminate their lease. This provision is essential because it protects both parties from being locked into a bad deal. If not included, then tenants may be stuck with a property they cannot use and landlords will lose out on revenue from other potential users.
3. Underestimating The Cost Of Tenant Improvements
Many landlords underestimate the cost of tenant improvements. The costs of repairs and renovations are often higher than expected, especially when they are not done by professionals. This can be a major problem when you're trying to turn over units quickly because the money spent on renovations will eat into your profit margin.
4. Trusting the Landlords and Their Agents to Represent
It's easy to trust the landlord and their agents to represent you well. After all, they're the ones who have the most information about the property, and they're just trying to help you find a place that will be good for you.
A medical office space is very different from a traditional office space.
But while they may know a lot about the property, they may not be experts in what's in your best interest as a tenant. For example, they might tell you that there are no problems with the apartment or building when there actually are some issues that aren't immediately obvious (like mold).
They might also promise that if something goes wrong with the property, they'll fix it right away. But what if it takes longer than expected? Or what if it turns out that fixing it is more expensive than they originally said?
When You're Not There Landlords and their agents often have a different agenda than you do. They may be more concerned about turning over units quickly than finding the best tenant for long-term profitability. This is why it's so important to have representation on both sides of the deal. Your agent should be looking out for your interests and ensuring that any agreement is in line with those interests.
5. Don't Get a Cap on Rent Increases
Although your landlord may charge you more for rent due to annual cost of living increases, it's important that you understand how these expenses are documented and applied.
Coast-of-living (COL) increases shouldn't be an opportunity for landlords to charge their tenants more money than is necessary.
Without specifying that COL is standard, you may be paying more than necessary.
Also, tie rent increases to a broadly accepted real-world index such as the Consumer Price Index and consider sharing the cost of those increases with your landlord or instituting a cap on annual rises.
6. Don't Understand the Law When Leasing in a Physician-Owned Building
Physicians can reduce the cost of running a healthcare practice by investing in commercial real estate.
While the law does not prohibit a physician from renting such space and equipment to or from other healthcare professionals or service provider, it establishes rules when doing so would involve receiving payment for services that are reimbursable by Medicare.
The Stark Law encourages physicians to refer Medicare and Medicaid patients by exempting from penalties financial arrangements that meet "the rental of office space" exception.
The Anti-Kickback Statute exempts certain cost structures from liability if they are structured as medical leases. This exemption applies to ownership arrangements that include physicians or other health care providers.
Both Stark and AKS seek to protect legitimate lease agreements between physicians and health providers while prohibiting improper referral arrangements. Consult an attorney to confirm your medical lease meets these safe harbor requirements, or at least avoid the most serious penalties if it doesn't.
7. Not Capping Reimbursable Expenses
8. Not Understanding Who Is Responsible For Repairs
Many medical leases are written in a way that allows the landlord to charge the tenant for repairs. However, some states have laws that prohibit landlords from charging tenants for repairs. If this is the case in your state, make sure to clarify this issue before signing on the dotted line.
9. Not Having a Real Estate Attorney Review the Lease
If you are unsure about the medical lease, have a real estate attorney review it. This will ensure that all of your questions are answered and potential problems are identified before signing. It may cost money up front, but it is worth it in the long run.
10. Go It Alone
This is a mistake that many people make. When you are looking for a medical office lease, it is important to have someone by your side who understands the process and can help guide you through it. A professional real estate agent or broker can be helpful in this regard as well as an attorney.
11. Don't Shop Around
It is important to shop around for a medical office lease. The price of commercial real estate can vary depending on the location and many other factors. Don't settle for the first place you see; keep looking until you find one that fits all of your needs.
12. Not taking the time to Choose The Right Location
Choosing the right location is important when it comes to renting a medical office. If you are looking for your first practice or if you plan on relocating, it is important to choose an area that has high foot traffic and one that will attract patients. 13. Not Creating A Business Plan
13. Allow the Landlord Unrestricted Access to Your Clinic
You're probably eager to start your private medical practice and make a name for yourself in the community. But you should be aware that allowing your landlord unrestricted access to your clinic can give them the opportunity to take advantage of you in ways that could hurt your business.
14. Assume All Costs of the Build-Out
Converting a blank office space into a medical facility requires costly customizations. Before signing the lease, negotiate with your landlord about any allowances for tenant improvements or other renovations that will be part of the deal.
Knowing what is reasonable in your market is often a matter of shopping around.
Talk to the other landlords in your area, and ask if they have tenant improvement allowances or rent abatements available.
Be sure to specify what will be required of you at the end of your lease, and make those requirements part of your negotiations.
Some leases include provisions that force you to move if another tenant wants to expand into your space.
If your tenant improvements are extensive or interfere with patient access, remove these provisions from the agreement. Alternatively, ensure that you cover any expenses related to relocating and/or time lost for patients during this period.
15. Underestimating The Timeline And Complexity Of Your Renovation
The renovation process can be long and complex. You'll need to coordinate with contractors, suppliers, and any other parties involved in the project. You may have to make some difficult decisions about what features are most important to you at what cost. If you have a tight timeline for completion, consider hiring a general contractor who has experience managing renovations of this type.
16. Let Your Broker Negotiate for You
When it comes to medical leasing, there are many things you can do to set yourself up for success. But there's one thing you should never do: let your broker negotiate for you.
Why is this such a big mistake? Because when it comes to medical practices, there are so many variables in play that it's important to have direct control over the process. If your broker is negotiating on your behalf, they're not going to be able to account for all of those variables—and that means they could end up making mistakes that cost you money.
So what do you do instead? Make sure you're intimately involved in every step of the process, from choosing the right location for your business and working with all the people needed during this, all the way through design and build-out.
The best way to do this is by using an experienced real estate professional who understands the market and knows how to help businesses succeed.
17. Sign the "Standard" Contract
The standard contract is usually not in your best interest. It will have many clauses that are designed to protect the leasing company and make it less likely for you to default on your lease. Make sure you read through all of the terms before signing, and ask questions if something doesn't make sense.
If you're unsure about a term, it's always better to ask than sign blindly.
Medical Lease Mistakes FAQs
How do I fix a mistake on my medical office lease?
A mistake on your medical office spaces is a common issue, and it's one that can be difficult to resolve. If you have any questions or concerns about your lease agreement, contact an attorneywho specializes in commercial real estate or a real estate professional who can help you with your medical office lease.
How do I review a commercial lease agreement?
The best way to review a commercial lease agreement is to ask questions and make sure you understand every term of the agreement. If you're unsure about a term, it's always better to ask than sign blindly.
Can a tenant change their mind after giving notice?
Giving your landlord notice of intent to vacate a rental is not reversible if you decide that you don't want to leave after all.
If your landlord is still considering his or her options when you apply to stay put, it will be difficult for you to convince this person that your request should take priority.
Is a commercial lease legally binding?
You cannot easily break or change a commercial lease. It is a legally binding contract, and either party involved can be seriously penalized for not fulfilling its terms.
What is the most important consideration in a commercial lease?
The amount of rent paid every month is one of the most important issues in negotiating a commercial lease. While it may seem straightforward, there are many ways to negotiate for lower monthly payments even if an initial offer has already been made by the landlord.
Conclusion
As you can see, there are a lot of potential mistakes that could be made when signing a medical space. Some of these mistakes might seem small, but they can end up costing you a lot of money in the long run. Others are more obvious but are still easy to overlook if you're not familiar with the ins and outs of leasing medical office space.
If you're currently in the process of looking for new medical office space, or if you're thinking about renewing your lease, I highly recommend giving me a call or scheduling a free consultation. I am an expert with years of experience dealing with all sorts of leases, and I'll make sure that you don't sign anything that's going to put you at risk down the line.