A well-organized medical office is a thing of beauty. It can make the workday run more smoothly and help to ensure that patients receive the best possible care. If you're struggling to get your small medical office organized, don't worry – we've got you covered! In this blog post, we will discuss how to organize a small medical office. Follow these office organization tips, and you'll be on your way to an organized and efficient workspace!
There are many ways to organize a small medical office like adding storage and installing additional lighting and using furniture with multiple functions.
Key Takeaways
Organize the files so that they're easy for nurses or other staff members to find when they need them.
Create a system for filing and storing all of your documents so that they're easy to find when you need them and don't end up getting lost or damaged while in storage.
Shred or dispose of unnecessary clutter, such as old mailings and outdated files, so that you don't have unnecessary waste lying around your office.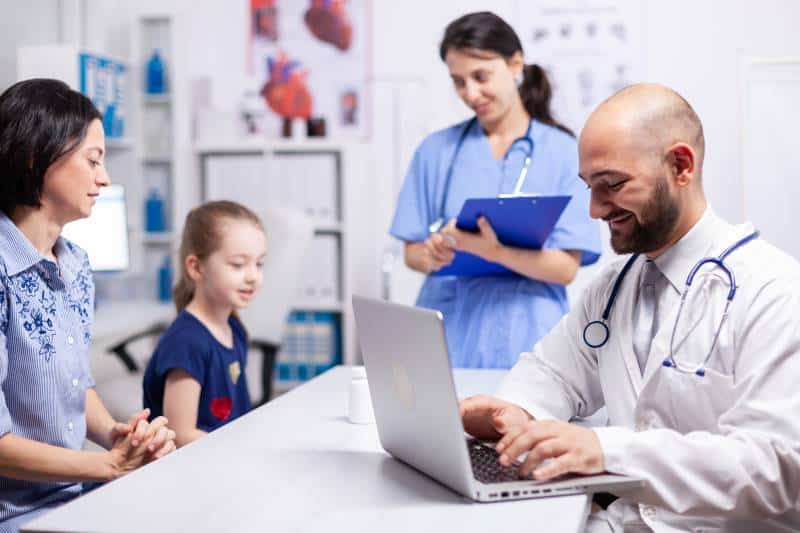 1. Use Furniture With Multiple Functions
If you have a small medical office, then it's important to make every square inch of space count. You don't want your clients to feel cramped or uncomfortable when they visit your office.
One way to keep the space feeling open and airy is by using furniture with multiple functions. Here are great ways to do so:
1) Use open shelving units to display your products and accessories. This gives you more room for items in a smaller space.
2) Try putting plants around the room—they help freshen up an area and make it feel welcoming.
3) Use hanging files instead of desk drawers; this allows you to maximize vertical space while keeping everything organized.
4) Install a bookshelf on one side of the wall; add items like magazines and books that will make clients feel comfortable while they're waiting for their appointment time to arrive!
2. Shred Or Dispose Of Unnecessary Clutter
Shred or dispose of unnecessary clutter. If you're looking to organize your medical office, you may find that a lot of the things in your office are just taking up space and making it harder for you to find what you need. These items can be things like old magazines, receipts, or even outdated medical equipment.
The best thing to do is get rid of them as soon as possible so that they don't take up space in your office anymore. You can shred receipts or important documents if they contain sensitive information on them, because they contain some useful information on them like phone numbers or addresses that could be used for identity theft scams, but any other papers should be recycled.
3. Keep Digital Backups Of Your Important Files
It's crucial to keep financial reports stay organized in an office, especially a small medical office where it's easy to lose track of important files. That's why digital backups are so important – if your computer crashes or gets stolen, you'll still have access to the financial reports you need.
Of course, digital backups are especially important if you are working with sensitive patient information. No one wants to think about the potential for a data breach, but it's always better to be safe than sorry.
Fortunately, there are many easy ways to create digital backups. You can use an external hard drive, cloud storage, or even just a USB drive. The important thing is to make sure that you have multiple copies in different locations. That way, if one file gets corrupted, you'll still have others to fall back on.
4. Label Everything
That's right—everything. From the medical equipment to the office supplies, label them all. This way, if someone comes in and needs something, they can easily find it without having to ask you where it is.
A good labeling system makes it easy for your staff members to find the items they need quickly and efficiently. It also helps patients who may not be familiar with the office or its contents feel more comfortable while they're there because they'll know where everything is located at a glance.
5. Use Vertical Space Wisely
Medical practices are always looking for ways to optimize their space and plan ahead. This is especially true for small medical offices that have limited horizontal square footage to work with. One way to make the most of your limited space is by utilizing vertical space. This can be done in a number of ways, such as with adjustable furniture and tall cabinets.
Adjustable furniture can be easily moved around when needed, which gives you more flexibility in how you use your space. Tall cabinets take up less floor space and can still store a good amount of supplies. Utilizing vertical space in your medical office can help you see more patients in one day and create a more efficient workflow.
6. Use Under-desk Storage
Any small medical office can benefit from being organized, tidy, and free of clutter. One way to achieve this is by utilizing under-the-desk storage for items such as personnel records. By keeping these items out of sight, they are also less likely to become lost or damaged.
This is especially important for documents that need to be kept in a specific order, such as storing duplicate financial and personnel files. In addition, by storing items under the desk, they are more likely to be within reach when they are needed but can still be out of the way when they are not in use. This can help to create a more efficient and enjoyable work environment for both office personnel and patients alike.
7. Install Additional Lighting
In addition to making your small medical office feel more spacious and bright, installing additional lighting can also be a great way to make board meetings more professional. Try installing recessed lights in the ceiling, as well as track lighting along the walls.
This will help to highlight the features of your boardroom, such as the board table or other decorations. If you are short on space, try installing track lighting above the board table or behind it. It's also important to ensure that there's enough light for board members who are sitting around the table. By installing additional lighting, you can make board meetings more professional and efficient.
8. Modernize Your New Patient Paperwork Process
In today's digital world, it's easy to forget that there are still some things only a paper form can do. There are plenty of advantages to keeping your new patient paperwork process on paper—it's cheap, it can be used as a tool for new patient engagement, and it can be sent in a variety of ways. But if you've been using the same system for years and find yourself frustrated by the time it takes to get through all of your paperwork, it might be time for an upgrade. Here are some tips for modernizing your new patient paperwork process:
1. Start by scanning all of your forms into a digital database that allows you to keep track of them all in one place. This database can also include other important information about each patient, like their insurance status and whether they have any allergies or prescriptions they take regularly. This will make it easier for you to find what you need when someone calls or visits the office with an appointment request or question about their treatment plan.
2. Next, consider how you want people who visit your office to fill out these forms digitally instead of on paper forms—whether by phone or web app—and then build an interface that makes this process as seamless as possible. For example, you might make it so that people can fill out the form online and then print it out at home or in their car before coming into your office for treatment. This will help reduce the amount of paper you use each day and ensure that everyone has access to the same information about each patient.
9. Invest In A Better Break Room
A break room is an important part of any medical office—whether it's a small practice or an emergency room. Your employees need a place to relax and recharge between appointments, and they'll be happier if they have access to things like coffee, tea, and snacks.
But don't just buy the cheapest break room you can find. Invest in a better one so that your staff can take advantage of all the benefits it has to offer.
10. Modernize Your Inventory Practices
Inventory management is a crucial part of any business, especially medical offices. It is important to keep track of what you have in stock and where it is located so that you can restock when needed. You also need to know how much inventory you have on hand so that you can plan for future purchases.
There are many ways that you can modernize your inventory practices. The first thing that you should do is look at your current system, and evaluate whether or not it is working well for you. If not, then consider making some changes.
1. Use barcodes on all items in your office (including those in cabinets). Barcodes help make sure that everything gets back into its proper place when used – and this will help eliminate confusion as well as wasted time spent looking for things that might have gotten misplaced at some point during the day/week/month/year).
2. Use a computerized system for tracking inventory instead of relying on manual spreadsheets or paper lists for keeping track of what has been used up (or needs refilling soon). These kinds of systems are typically easier to use, more accurate, and less prone to human error.
11. Look Into Secure Messaging Systems
In the age of junk mail and constant spam, it's more important than ever to have a secure messaging system in place for communicating with patients. Not only do secure messaging systems allow you to send only open mail messages, but they also help you keep your files safe from potential security breaches. This is especially important if you deal with sensitive patient information on a regular basis.
In addition to junk mail and security concerns, another benefit of using a secure messaging system is that it allows you to send reminders and follow-up emails directly from your computer. This can save you a significant amount of time in the long run, as you won't need to make phone calls or go into the office every time a patient needs something. Plus, patients will appreciate not having to hear a busy signal when they call your office! Overall, secure messaging systems offer a number of advantages for both doctors and patients alike.
12. Encourage A Tidy Workspace
A small medical office can be an incredibly busy place, especially when it's still young. But the best way to keep everything running smoothly is to encourage a tidy workspace. One of the easiest ways to do this is by offering incentives for those who keep their spaces tidy and organized. For example, you could offer a free cup of coffee or lunch for each employee who cleans and organizes their workspace every day. This will encourage them to do so and will also make them feel like they're appreciated by their employer!
13. Encourage And Reward Good Office Habits
Proper office organization is a key component of running a successful and profitable medical practice. It helps to provide a clean, well-organized space for clients and patients to visit. A cluttered office can lead to confusion and frustration, which can turn off potential clients and customers. A good way to encourage good office habits is by rewarding employees who practice them.
The rewards you choose will depend on the type of employee you have and what motivates them. Some employees may be motivated by cash prizes or gift cards, while others may appreciate recognition through public praise or private acknowledgment. You should also consider the type of reward that will have the greatest impact on your business goals.
14. Shred Or Dispose Of Any Unnecessary Clutter
Having a cluttered office does not make you look disorganized, but it does make your clients feel uncomfortable. Clutter can also make it difficult for your staff members to find things when they need them. Clutter may even be the cause of some accidents in your office.
If you have too much clutter, then consider hiring a professional organizer to help you sort through your items and decide what can be thrown away or recycled and what should stay in the office.
15. Invest in Queue Management System
A queue management system is an essential tool for any medical office. It will enable you to manage patient flow and reduce your wait times, which are two of the most important things that matter to patients.
Queue management systems are designed to help you keep track of all your patients and their appointments, as well as manage their wait times. This system can help you to improve your customer service and improve patient satisfaction.
If you have a small medical office, then it is important that you invest in this system because it will help you manage your patient flow better and reduce the time they spend waiting.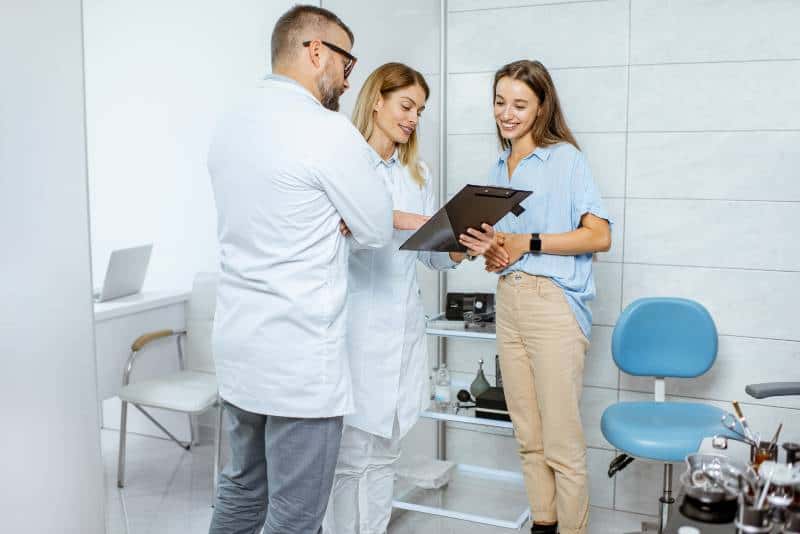 How To Organize A Small Medical Office FAQs
How do you run a medical office efficiently?
Running a medical office can be overwhelming. The work is never done, and the demands from your patients are endless. You have to schedule appointments, make sure the staff has everything they need, and make sure that every patient gets the care they need in a timely manner.
Here are some tips on how to run a small medical office efficiently:
1) Create A Routine For Your Office: Your patients will feel more comfortable when they know what to expect when they arrive at your office. You can plan out your day by scheduling appointments on your calendar in advance so that everyone knows when their appointment is going to be and what time they need to be there.
2) Set Goals: Setting goals for yourself helps keep you motivated and focused on what needs to get done in order for your practice to run smoothly. Make sure these goals are realistic so that you aren't overwhelmed by them!
3) Delegate Tasks To Employees: Delegate tasks like scheduling appointments or taking messages for patients so that it doesn't become overwhelming for anyone in your office! This will help keep things running smoothly when there are multiple people working together toward one goal (which is running an efficient medical practice!).
4) Identify Potential Problems: While you're running through your practice run, identify potential problems that could arise during the real thing. This will help you figure out what to do if things don't go as planned!
5) Practice: Once you've identified the problems that could occur and how to fix them, try running through another practice run with those fixes put into place. This will help ensure that everything runs smoothly on opening day!
Why organization is important in a medical office?
The organization is important in a medical office because it helps you keep track of your patients, their files, and the information you need to provide them with quality care. It also makes it easier for you to find the tools and resources you need when you're working on a patient file.
What makes a good medical office manager?
A good medical office manager is someone who can keep the office running smoothly, while still being able to handle unexpected emergencies. A good manager needs to be able to delegate tasks and make sure that they are being completed correctly and on time.
It's important for a manager to be organized and able to multitask, as well as have good communication skills. They should also have an understanding of medical terminology and how the insurance system works.
Finally, they need to have great people skills—they'll be working with all kinds of people from different backgrounds and personalities, so it's important for them not only to be able to communicate clearly with them but also to understand their needs and concerns.
Conclusion
Small medical office organization can be a daunting task, but it is important to make sure your office is running smoothly in order to provide the best patient experience possible. By following these simple tips, you can organize your small medical office and create an environment that is both functional and visually pleasing. Have questions or need help getting started? Contact me today for a free consultation – I would be happy to assist you!