The rental commercial real estate niche is a hidden gem. It's often overlooked by business owners because they think that it's too competitive or that there isn't any money to be made. However, this niche offers several advantages that can help your business succeed! In this blog post, we will discuss the benefits of the rental real estate niches and why you should consider entering it!
There's a huge demand for commercial property—people need places to run their businesses and rent out office space! So if you're looking to start a business or rent out space for your own use, this is definitely an area where there's plenty of opportunity.
Key Takeaways
One of the most profitable real estate niches like industrial or healthcare offers many advantages. It has a high demand and plenty of potential for growth.
Plus, there are a variety of options available that can help you make the most out of your investment. Investing in this niche is an excellent way to maximize profits and grow your business!
With the right strategies and resources, you can make a great profit in your chosen niche.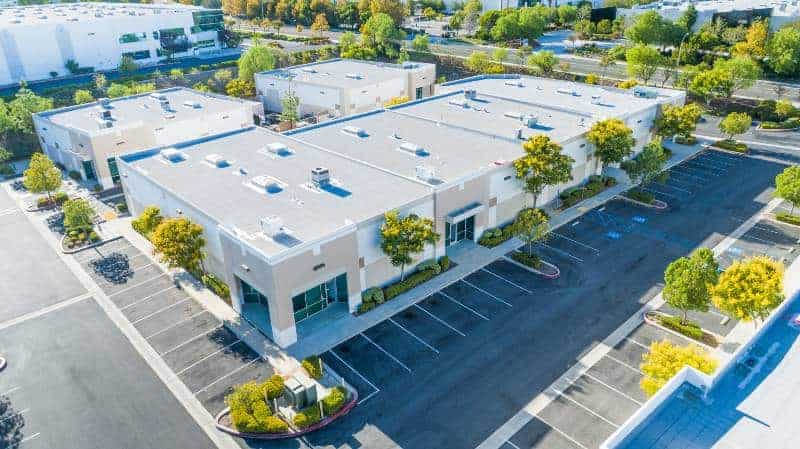 Introduction
Commercial real estate is one of the most important areas in the real estate business. It's the backbone of any city, and it's what makes or breaks companies. Commercial real estate is also a very lucrative field—so much so that many people are interested in getting into it.
But how do you get started? What do you need to know? And how do you make sure that you're doing everything right?
The answer is simple: by identifying a niche market and then focusing on that market exclusively. This will allow you to stand out from the crowd and set yourself apart from other companies—and it will also help you be more effective overall.
Why Finding Your Real Estate Niche Is Important
Making yourself stand out from generalists
How important is it to find your real estate niche? Very.
You know what's better than being a generalist? Being a specialist.
Generalists are great if you're looking for a job as entry-level real estate agents. But if you want to make it big in real estate, you need to be able to stand out from the crowd. That means finding a way to differentiate yourself from the rest of the industry—and doing so quickly.
The fastest way to do this? Find a niche that speaks to you, and focus on that until you've mastered it.
Setting yourself apart from the competition
Finding your real estate niche is one of the most important steps in becoming a successful agent. But how exactly does it help you?
It gives you a competitive advantage.
The more specific you are about what you want to offer, the easier it will be for you to stand out from the crowd. When potential clients know that they can trust you with their most important investment—their home—they'll be more likely to hire you over other agents who don't specialize in what interests them most.
It helps you stand out among other agents in your area as well as nationally.
When people search for an agent online, they're often looking for someone with experience in a certain area of real estate—for example, if they're looking for someone who specializes in selling homes (or for example, mobile homes) in a particular neighborhood or area of town. Your niche will give them something unique they can't find elsewhere!
Gaining Experience Working With Similar Properties
Understanding the real estate market is crucial to your success as a real estate agent. It will help you understand how to best market your listings, what price points to aim for, and how to compete against other agents in your area. It will also help you know what kind of buyer might be most interested in your own property.
The best way to gain this knowledge is by working with similar properties in the market. If you're just starting out as a real estate agent, this can be tricky because there are so many different types of properties (condos, townhouses, single-family homes). But if you focus on one specific niche—say, commercial properties under $500K—you'll have an easier time gaining experience working with similar properties.
Rental real estate niches for commercial real estate
Healthcare facilities
Hospitals, clinics, and nursing homes have consistent demand and long-term leases with which to work. The industry is also experiencing growth: From 2022 to 2030, the U.S. healthcare infrastructure industry is projected to expand from a 2021 valuation of USD 1,318.9 billion at a CAGR of 7.62%. The need for modern healthcare facilities is likely to rise in the future years as a result of the growing urge for better patient care and the introduction of revolutionary healthcare technology.
Read on here to find out more about what affects the demand for medical spaces.
Industrial properties
Industrial properties are a great real estate investment trust option for commercial real estate investors looking to invest and hold their properties for the long term. The high occupancy rates associated with industrial properties ensure that you're likely to find tenants quickly, while long-term leases protect you from the inherent market ups and downs.
Plus, e-commerce and import goods continue to be on the rise, meaning that demand for warehouses and distribution centers is expected to increase over time. So if you want peace of mind about your real estate investments, consider investing in industrial property management!
Retail properties
Retail properties, such as shopping centers and standalone stores, are a great option for investors looking to capitalize on the high foot traffic of an area. A diverse tenant mix is also a plus: if you're looking to attract multiple types of businesses, consider renting out space in your retail property to more than one type of store or business.
Multifamily properties
Multifamily properties are the perfect investment for people who have a lot of money to invest and are looking for a way to diversify their portfolio. The demand for apartment buildings and condos is consistent, and there is always a new wave of young people moving into the city who need places to live. You can potentially get multiple streams of income from these properties by renting out the units individually or by offering them up as corporate housing or short-term rentals.
Office buildings
The commercial real estate market is a great place to invest your money. There are many different kinds of property to choose from, and each one has its own unique benefits.
Standalone office buildings are a common type of commercial real estate investment. They can be constructed just about anywhere and can be customized to fit the needs of potential tenants. This makes them an ideal option for investors who want long-term leases or who need to accommodate specific business needs in their properties.
Office parks are another type of commercial real estate investment that can be profitable if you know what you're doing. These types of properties are often located near major business centers or transportation hubs, which means they tend to attract tenants who have businesses that require quick access to other companies and/or clients.
Non-Traditional Investment Properties
Vacation Rentals
Vacation homes are a great way to make money in the real estate market. You can make a lot of money by renting out your property to vacationers. Vacation rentals have become very popular over the years, and they are one of the most common types of non-traditional investments.
For example, If you have a spare house that isn't being used, consider renting it out on Airbnb or another similar site. If you have an entire house or apartment (or even a cabin), consider listing that on Airbnb as well! You'll get some extra money from your home when it's not occupied by family or friends—and you'll also be able to make new friends from around the world!
Senior Housing
With the elderly population on the rise, unusual real estate niches such as senior housing offer a great opportunity to a savvy real estate investor with experience in the medical or healthcare industry. The cost of health care is rising, and many seniors are looking for housing that caters to their needs and offers assistance, yet allows for autonomy. Senior housing developments provide an ideal environment, making them a good investment for those who have the knowledge and resources to create these dwellings. Just look around your own community and you'll see why this kind of unusual real estate niche can be so profitable!
Luxury Real Estate
A luxury home cannot be defined by its price tag alone. "It has to be unique and exclusive—in a good way, a desired manner," says Randy Char, president and broker of Char Luxury Real Estate in Las Vegas. Rich people will shell out more money for a product or service they believe is superior.
High-end shopping, dining, and cultural events, as well as proximity to other high-end residences, are all selling points for the affluent homebuyer. There is a premium placed on properties that are located in desirable areas, such as New York City's Park Avenue. Having a rich past is an added bonus. Many high-end homebuyers are drawn to properties that are either directly on the water or have stunning views of the sea, lake, or river. While others prefer scenic vistas of the countryside or the mountains.
Many of the same amenities that regular consumers value are also highly valued by affluent shoppers, albeit on a greater scale. They seek isolation when necessary in order to feel safe and private. They can afford lavish designs, elaborate interiors, and elaborate exteriors because they value aesthetics above all else.
Plus, they want the most up-to-date home automation, vehicle lifts, and temperature-controlled wine cellars in addition to the standard features such as a chef's kitchen, luxury pool, huge owner's suite, and outdoor living space. Many people also value spacious accommodations, yet a large house is not necessary to enjoy a life of ease and comfort.
Mark Fitzpatrick, CEO of RUHM Luxury Marketing, a marketing firm for destination homes, advises clients to give extra consideration to immutable features when selecting a luxury residence. Things like the sun's orbit, the location of the ocean, and the flight path of huge aircraft over your head are fixed features of the universe that you have no control over. Ugly wallpaper in the bathroom is significantly less essential than the weather," he argues.
Student Housing
Student housing is a non-traditional investment property that can be a great way to diversify your portfolio. With the average college student pays the average room and board in private colleges costs $13,620, and $11,950 in public colleges. and $9,377 per year in tuition, it's no wonder that many students are looking for off-campus housing options.
Student housing is a growing industry. In fact, recent data from the National Postsecondary Student Aid Study indicates that about 60% of all college students live off-campus, thus this is a real issue for many. Students at many different schools in many different places have reportedly had trouble locating cheap housing for the upcoming school year, as reported by the media.
Considerations for choosing a niche
Researching market trends and demand
The first step in choosing a niche in real estate is to do some research.
You'll want to look at the market trends and demand for properties in your area. You can do this by looking at the average price of properties, as well as rent prices and vacancy rates. You should also look at the number of properties that are being built or sold each year.
You can also research specific neighborhoods to see what they have available and if they're experiencing high demand. This will help you determine which areas are currently seeing more growth than others, which can help you decide where you might want to invest your money or time when considering how best to grow your business.
Evaluating the level of competition in the market
In any market, you want to make sure that you're choosing a niche that is not too crowded. It's tough to be one of many in space, and you'll likely have to spend more on advertising than you would if there were fewer competitors.
You'll also want to make sure that your competitors are not too large. If they are, it will be difficult for you to compete with them in terms of price or quality. You may have to look for niches that smaller companies haven't been able to enter yet or be willing to charge more than your competition if theirs is lower than yours.
Evaluating the level of demand for the product or service you offer The last thing you want when growing a business is a product or service that no one wants. If there's no demand, then even if you're finding success with marketing and sales
Assessing the potential for profitability
When choosing a niche in real estate, it's important to assess the potential for profitability. You should be able to anticipate how much time you'll spend on your business, and it's crucial that you have reasonable expectations about how much money you will make.
How To Find Rental Real Estate Niches FAQs
What is the 1 percent rule for a rental property?
If you're considering investing in real estate, the 1% rule is essential to bear in mind. It states that a property's monthly rent must be at least equivalent to 1% of the purchase price for it to be deemed an advantageous investment. This calculation examines how much rental income can be expected from your rental properties against their cost.
Utilizing the 1% rule is a great approach to help you make smart decisions when selecting an investment property. It facilitates rapid estimating of cash flow, and can even be utilized to discover suitable market rent for vacant properties. This well-known guideline will serve as your go-to tool in real estate investing!
While this is merely a suggestion, it serves as an excellent launchpad for determining your rental price. Even so, there are still more factors to contemplate before you settle on the final rent amount.
What is a good rate of return?
The general consensus holds that a stock investment with a return on investment (ROI) of 7% per year or higher is doing well. To some extent, this is also the average real annual return of the S&P 500.
How to pick a real estate niche?
Whether you're new to the world of real estate or a seasoned pro, choosing a niche is an important step in your career. When you pick a niche, it means that all of your marketing efforts are focused on one specific type of property—and that's great for building expertise in that area.
If you choose the right niche, you'll have more potential clients who will be likely to work with you, and it will make it easier for them to find you online.
But picking the right niche is more than just knowing what kind of properties you want to specialize in. Here are some things to consider when choosing a real estate niche:
1) What do you love? If there's something about the industry that makes your heart sing—like the idea of helping people buy and sell homes—then maybe that's the best place to start.
2) Is there room in the market? Sometimes it's good to try out an idea and see how well it works before committing yourself. If there are tons of other realtors who are already doing what you want to do, it might not be worth taking on all those extra hours of work.
3) How much money can I make? When deciding on your niche, remember that not every type of real estate will pay as well as others. If you're looking at doing commercial deals instead of residential property or properties because they tend to bring in more revenue, then go for it! Just don't forget about how much time it will take to make money.
Conclusion
There are plenty of advantages to investing in the rental commercial real estate niche. In addition to the potential for high returns, you also have the benefit of diversification and more stability than other types of investments.
Also, It's important to identify and target specific rental niches in commercial real estate. By doing so, you can enjoy benefits such as a consistent demand for your property and long-term leases. If you're not sure where to start, I offer free consultations to help get you on the right track. Give me a call or schedule a consultation today!