Industrial real estate has been on the rise lately and for good reason! There are many factors that have contributed to this trend, making industrial properties a more desirable real estate investment. In this blog post, we will discuss nine reasons why the industry real estate outlook is great. If you're thinking about investing in industrial property, make sure to read this post first!
This type of commercial property consistently has a high demand, so you're less likely to be unable to sell it. In contrast to other types of real estate investments, industrial properties stay on the market for short periods of time, making them easier to access cash quickly.
Key Takeaways
The economy is growing, and demand for warehouse space is growing with it.
Demand is driven by e-commerce and logistics companies, which are in need of space to store their products and distribute them efficiently.
As the demand for industrial space remains strong and continues to climb, so do rents. Logistics rent growth has been particularly rapid in recent years, at 13.5% year-over-year in Q3 2022; more than double that of any other segment.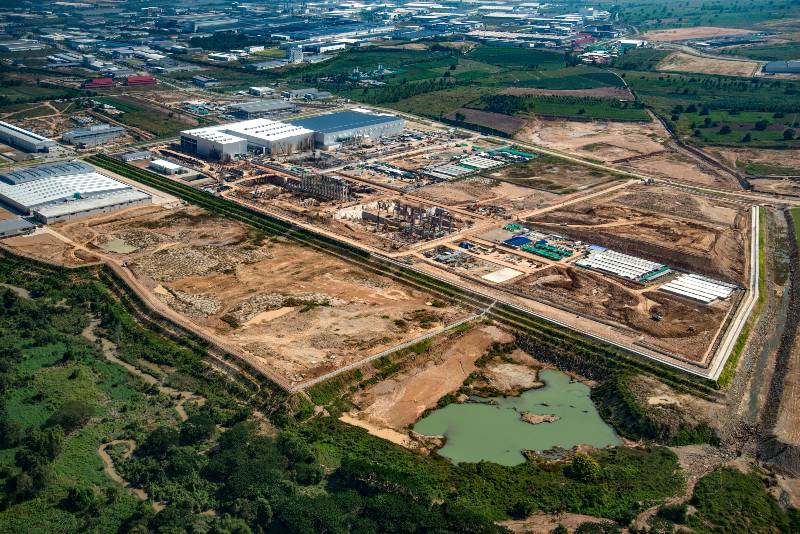 9 Reasons Why Industrial Real Estate Outlook is Great
There has never been a perception that industrial commercial real estate is particularly attractive as an investment. In other words, industrial real estate is not flashy like a new apartment complex or retail property, nor have they usually been associated with big names in the industry.
It is important to note, however, that industrial commercial real estate has become the new "quiet darling" with the rise of e-commerce over the last economic cycle.
Shortly, online stores require space for storing and shipping their inventory. A growing number of online retailers are moving from their garages into industrial spaces as a result of the success of their business.
It has been estimated that 1.25 million square feet have been leased and The industrial space demand from each is $1.0 Billion in eCommerce sales based on research conducted by CBRE.
1. Low Supply & High Demand For Industrial Properties
The industrial real estate market is booming, and it's not hard to see why.
The supply of industrial properties is low, and the demand is high. This means that there are fewer properties available for lease, so companies have to compete with each other to secure a location. It also means that the ones who do get their pick of locations can negotiate better lease terms because they have fewer options.
2. The Growth of Ecommerce Will Continue
COVID has clearly increased the expansion of eCommerce and online ordering in the last two years, despite how awful the epidemic has been.
Yes, larger industrial buildings are (and will always be) utilized by the Amazons of the world, but many people underestimate the demand for much smaller internet stores right now.
The requirement for access to smaller industrial locations is increasing as the demand for last-mile delivery and regional distribution grows. These people require storage space for their merchandise!
But it's not just product sellers that are expanding; concepts like "ghost kitchens" are also expanding to suit the demand for restaurant delivery.
Ghost kitchens sometimes dwell in industrial facilities because rents are substantially lower and the nature of their company does not require a front-facing retail presence.
Online retail (and other business models that do not require storage space) are expanding and there appears to be no end in sight. This is one of the most compelling reasons why industrial commercial real estate has a promising future.
3. Industrial Properties Are Low Maintenance
If you've invested in other sorts of commercial real estate, you'll recognize this as an appealing feature right away.
For example, the roofing on your building is most likely your largest capital investment. Yes, you have basic plumbing and electrical, but not to the extent that other asset kinds require.
Consider this: in most circumstances, you are renting an empty box!
Because the buildings are very simple in comparison to apartment complexes, office buildings, and the like, it's also quite easy to forecast what your spending will be in the near future.
Finally, and similarly, tenant upgrades are frequently far less expensive because your tenants do not need to stage an elaborate build-out.
4. Much Lower Tenants Turnover
Tenant turnover is one of those issues that never go away for commercial real estate investors.
However, the rate of that turnover is entirely dependent on the type of asset in which you have invested.
For example, single-tenant leasing is likely to have the highest rate of turnover. It's a simple concept: you only have one tenant in that property, therefore if they up and leave, you're immediately liable.
When you compare that to any type of multi-tenant property, you'll understand what I mean. If you have four (or forty) tenants leasing from a single property you own, you have some wiggle room if one of them goes.
Industrial commercial properties, however in a different fashion than multi-tenant complexes, provide some protection.
Industrial commercial properties also provide some protection against turnover, although in a different way than multi-tenant properties.
Firstly, there are fewer opportunities for your tenant to move because there are fewer properties available to do so.
It is more likely that industrial tenants will develop within industrial opportunities rather than outgrow them and move into another asset class.
When compared to other types of products, industrial tenants are able to achieve nearly ideal turnover rates due to their different goals, uses mindsets, and opportunities.
If you want to learn more about reasons why the industrial real estate sector looks bright, read an article that I wrote here, rest assured that you'll learn!
5. Growth Area In Some of the US (South/Southeast)
Commercial real estate cities such as Nashville, Atlanta, and Charlotte are currently seeing a significant boom, owing partly to COVID flight and the ease of access to the majority of customers in the United States.
Compounding the problem, states with no income tax—such as Texas, Tennessee, and Florida—have proven particularly appealing to investors.
These markets are less expensive, so a new business can enter them at a lower cost than it could be entering traditionally more appealing cities such as Chicago and Los Angeles.
The country (and the world) is once again turning to our southern states as a place to invest in commercial real estate.
6. Inventory Modernization Is Still In An Early Stage
Even though construction activity is projected to rebound and reach new heights in the coming years, it is important to keep in mind that inventory modernization is still in an early stage.
More than 70% of industrial space in the United States was developed before the twenty-first century, and one-third of the inventory is over 50 years old. This means that there is still a large amount of work to be done in terms of bringing facilities up to modern standards.
However, it is encouraging to see that the present construction pipeline covers 500 million square feet. ft., virtually all of which are scheduled to be completed by 2023. This indicates a potential future supply deficit if speculative development stays down in 2022 owing to protracted interruption. In other words, there is a lot of potential for growth in this area, and it will be interesting to see how things develop in the coming years.
7. Onshoring is Gaining Momentum
The pandemic, combined with increased tariffs and other trade barriers, has shown many companies just how vulnerable global supply chains are.
A growing number of North American manufacturers are bringing some production and sourcing back to the continent; they're engaging with industrial real estate markets as a result.
This should increase demand for industrial space and improve job prospects. Manufacturers may also be looking at better-designed facilities to avoid crowding of employees.
Supply chains are based on cost, and things are moving in such a way that reshoring is now profitable. This will create an increase in demand for industrial space of all sizes—including traditional centers which have been struggling recently.
The onshoring trend is gaining significant momentum in recent years as more and more companies are repatriating their manufacturing back to the United States. Onshoring has a number of advantages, including improved quality control, reduced lead times, and increased transparency. In addition, onshoring can help to create jobs and spur economic growth. Done correctly, onshoring can be a boon for both companies and workers. As the onshoring trend continues to gain steam, it is likely to have a major impact on the global economy.
8. More Companies looking to take greater control of their supply chain
What is the significance of real estate to supply chain professionals?
Global titans like Amazon, Apple, and Tesla use real estate as a strategic advantage by manufacturing miracles and disseminating them through their industrial and logistics structures.
They are seeing tremendous development, which is being driven by their expertise in design, production, and distribution.
In today's business environment, the goal of any supply chain strategy is to lower total costs while satisfying customers' high service standards—real estate can be a critical component in this effort.
9. Technology and automation adoption will accelerate
As any business knows, labor is essential for operations. However, recent years have seen increased pressure on the labor force, with employment in warehousing and storage increasing by 58.2% year on year. At the same time, the industry is experiencing labor shortages. In order to address these problematic labor conditions, businesses are turning to technology and automation.
The warehouse automation market is predicted to rise 1.5 times to $37.6 billion by 2025. This trend is being driven by the need to improve efficiency and satisfy corporate ESG goals. Fleet electrification, particularly for last-mile deliveries, has the potential to be most quickly deployable as businesses accelerate their green initiatives and move away from fossil fuels.
Electrifying vehicles can help to reduce emissions, support sustainable operations, and create a healthier work environment – all of which are key concerns for businesses today.
By investing in new technologies and automating their operations, businesses can solve challenging labor conditions, improve efficiency, and meet corporate ESG goals.
No signs of a slowdown in the industrial sector
As the economy improves, demand for the industrial sector continues. The amount of office sector and retail space being built is not keeping up with demand, but industrial space is. There is still plenty of room for new projects to be built.
Industrial real estate over other asset classes has always been an excellent investment because it always has value and can be sold at any time. The demand for more warehouse space will continue to grow as businesses continue to expand and need more space for storing inventory and materials.
Why Industrial Real Estate Outlook is Great FAQs
Why is the real estate industry growing?
Investors are increasingly buying up industrial real estate, but continue to be cautious when it comes to commercial and retail properties.
The price of the average industrial property increased from $16 million in the first quarter of 2020 to $19.1 million in the first quarter of 2021, rising over 20 percent during that time period. In addition, asking rents have reached record highs as well.
A number of factors are making industrial buildings attractive investment targets for firms:
Buildings with long-term leases are often easier for property teams to manage since renovations occur less frequently.
Leases usually require tenants to pay for property maintenance, as well as other monthly costs like utilities and taxes.
Industrial leases usually last five to ten years but can be extended up to 25 years.
Investors who want to join the commercial real estate boom are looking at alternative forms of investment. These include buying shares in an industrial REIT and crowdfunding for real estate projects.
States with high projected population growth and lower taxes, such as Southern California, Atlanta, Philadelphia, and Dallas are considered hot acquisition markets.
Some companies are indeed moving towards a permanent remote workforce, while other businesses maintain an office-based staff.
In May 2020, a survey indicated that only 12% of U.S. workers want to work from home full-time—a figure likely to change as more people become familiar with and comfortable using computers at home.
But the pandemic has made problems associated with cubicle farms and open-plan offices very clear, meaning that new buildings will likely be designed differently.
W4 in Austin, Texas is one example of an office building that includes outdoor space for its residents and avoids shared amenities. It also provides easy access to an outdoor mall.
As companies replace cubicles and open-plan offices with pods that allow a smaller number of people to work together, more workers will be working part-time from home or seeking flexible hours. This means increased demand for time sharing of enclosed offices.
There's a growing demand for high-level ventilation systems, touchless doors, and toilets, as well as indoor-outdoor workspaces.
Some architects are considering making their buildings more compact in the future, a change that could lead to larger numbers of elevators and reintroducing stairwells as places where people routinely spend time.
What is the meaning of industrial real estate?
Manufacturing, production, research and development, storage, and distribution facilities are all included in the definition of industrial real estate. While residential, commercial, and retail real estate are more glamorous, industrial real estate should not be neglected as an important enabler of global trade and a stable, income-generating asset class.
The global economy runs on industrial real estate. Well-located, high-quality industrial real estate keeps the world's supply chains running, allows for trade and e-commerce, and assures the efficient transportation of commodities from manufacturers to markets.
Is the industrial real estate industry growing or declining?
As the demand for industrial space remains strong and continues to climb, so do rents. Logistics rent growth has been particularly rapid in recent years, at 13.5% year-over-year in Q3 2022; more than double that of any other segment.
Besides e-commerce, what other industries need industrial space?
Aside from e-commerce, industrial space is needed in a variety of industries. One example is the food industry. Food processing plants and manufacturers need large spaces for production, storage, and shipping. Another industry that needs large spaces is the automotive industry. Automobile dealerships require lots of space for car showrooms, service bays, and storage facilities.
What are Los Angeles' industrial real estate demand and supply like?
With the persistent surge in e-commerce and continued distress in the supply chain, asking rates for industrial real estate hit another record high—and bolstering real estate fundamentals for manufacturing space, including low vacancy rates matched one for all-time low—in Greater Los Angeles during Q3.
The average lease rate for industrial space in Greater Los Angeles reached a new high of $1.08 per square foot per month in Q3—a 9% increase from the previous quarter and nearly 19% higher than what it was during Q3 2014, according to CBRE's latest Los Angeles Industrial MarketView report.
Conclusion
The industrial real estate market is currently booming due to the growth of e-commerce and other industries that require large spaces. The demand for industrial space is high and rents are climbing. Los Angeles is one of the hottest global markets for industrial real estate.
All things considered, the industrial real estate outlook is looking very rosy. If you're thinking of making a move in this market, now is the time to do it. I would be happy to discuss your options and help you find the perfect property for your needs. Give me a call or schedule a free consultation today.