It's no secret that the industrial real estate industry is undergoing a rapid transformation – and technology is at the forefront of it. With e-commerce giants like Amazon, Walmart, and Ali Express inspiring competition among all businesses to optimize their supply chain operations for greater efficiency, access to efficient industrial space has never been more in demand.
Consequently, property owners now face a host of new challenges in order to remain competitive; from mitigating risk with heightened security requirements to adapting their real estate portfolios with predictive analytics capabilities.
As more and more methods of delivering products to customers exist, e-commerce supply chains require a significant increase in their total retail sales and warehouse and logistics space—on average three times larger than standard brick-and-mortar sales. According to CBRE Research, an increase of one billion dollars in e-commerce sales requires a matching 1.25 million square feet of distribution space for its support and growth.
However, not every demand is the same. The E-commerce supply chain requires an efficient logistics space to enable fast goods delivery to buyers. As more and more major omnichannel retailers offer two or even one-day shipping options, it's essential for goods to be able quickly to flow through each step of the e-fulfillment process.
To make this happen, new warehouses have grown in size and height. The typical US warehouse constructed between 2018-2021 is larger by 108,665 square feet and increased to 3.7 ft compared with those built from 2002-2007. Notably, Atlanta, Cincinnati, and the Inland Empire of Southern California – urban markets having enough premises for constructing a large number of such structures – witnessed the most significant growth in their building sizes.
In this blog post, we'll explore how advances in e-commerce are changing the future of industrial real estate across America and offer some tips on how property owners can leverage technology-driven solutions to stay ahead of the game.
According to a recent CBRE Research study, the demand for distribution space increases exponentially with each $1 billion growth in e-commerce sales. For every new increment of $1 billion, 1.25 million square feet more is required to adequately support the channel's expansion.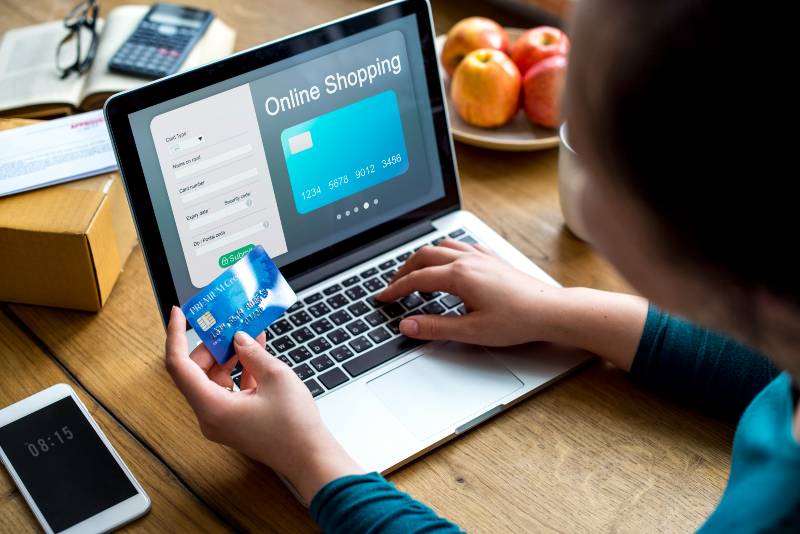 Key Takeaways
E-commerce sales have had an extraordinary influence on industrial real estate. Warehouses constructed between 2018 and 2021 in the US are, on average, taller and larger than those built from 2002 to 2007.
Investment in industrial real estate is expected to rise as more and more e-commerce companies use warehouses to facilitate their supply chain operations. It's essential for these spaces to be efficient in order for goods to quickly flow through each step of the process.
With technological advancements, such as automation and AI, it's possible for industrial real estate spaces to continue driving productivity and efficiency in the years ahead.
Technological advancements shaping the future
AI and automation in warehouses
As the e-commerce domain continues to gain prominence, industrial real estate properties are also experiencing surging demand from online shopping trends. With online shopping on the rise, warehouses and fulfillment centers have become integral elements of successful businesses in this space.
AI technology is revolutionizing warehouse operations with its automation capabilities, optimizing inventory management and reducing labor costs while improving delivery times. This innovative technological advancement isn't done yet though; improved machine learning and AI tech are projected to make a substantial impact on equipment maintenance costs too, allowing warehouses to achieve maximum efficiency at a minimal cost.
IoT and smart buildings
As technology continues to shape the world we live in, it's no surprise that the future of e-commerce-driven industrial real estate is set to be incredibly exciting. One of the biggest advancements that we're likely to see is in the use of IoT and smart buildings. Thanks to IoT solutions, smart buildings will be able to provide detailed insights into energy efficiency, health and safety, and security. From temperature control to fire detection and access control, these buildings will become hubs of efficiency that will revolutionize the way we live and work.
Green technology for sustainability
With technological advancements shaping the future, it's no surprise that e-commerce has had a major impact on industrial real estate. Gone are the days of traditional brick-and-mortar stores dominating the market. In today's world, online shopping has become the norm, and businesses are looking for ways to optimize their supply chain operations to keep up with increasing demand. This trend has led to an increase in the use of green technology for sustainability. From solar panels to energy-efficient lighting, companies are taking steps to reduce their carbon footprint and promote a more sustainable future.
Pro tip: Unlock the sustainability benefits of green commercial real estate with The Power of Green! Learn how transformative eco-friendly buildings can be in this comprehensive resource, read more about it here.
Drone delivery and its implications
Drone delivery is an emerging technology set to revolutionize the way e-commerce businesses deliver goods and services. Here are just some of its remarkable implications for organizations in this space:
Faster delivery times: Drone delivery offers a revolutionary advantage – it gets products to customers quickly. Without the hindrances of traffic, drones are able to fly straight through and make their way directly toward the customer's doorstep, making deliveries faster than ever before possible with traditional methods.
Reduced delivery costs: Drone delivery can also be cheaper than traditional delivery methods, as it eliminates the need for human drivers and delivery vehicles. This can result in cost savings for e-commerce businesses, which can then be passed on to customers in the form of lower prices or free shipping.
Improved customer experience: Providing customers with unbeatable speeds for delivery and prices that won't break the bank could result in a remarkable shopping experience. Those who receive prompt arrivals of their products at an affordable cost will ultimately be more gratified, consequently leading them to come back time after time!
Increased efficiency: Drone delivery can drastically increase the efficiency of e-commerce businesses, cutting down on both time and resources spent delivering packages. This not only saves money but also opens up more opportunities to reinvest in other areas of business – like marketing or product development – without having to worry about any additional resource costs.
Regulatory challenges: Drone delivery offers many advantages to businesses, yet requires them to also address the regulatory challenges associated with its use. Different countries have various regulations on drone usage and it is essential for e-commerce companies to properly navigate these rules in order to maximize their success with this technology.
With its potential to reduce fulfillment costs, accelerate delivery times, and amplify customer satisfaction levels, drone delivery is poised to have a major effect on the e-commerce sector. That being said, businesses must be aware of existing regulatory hurdles in order to capitalize on these advantages fully. By implementing creative strategies for overcoming those obstacles and mitigating their impact, businesses can maximize the value drone delivery brings to e-commerce fulfillment too.
Emerging trends in industrial real estate
Micro-fulfillment centers
Have you ever ordered something online and anxiously waited for it to arrive? Well, the future of e-commerce is looking bright with the emergence of micro-fulfillment centers (MFCs). These centers are small-scale storage facilities that are sprinkled throughout cities and house inventory for big e-commerce companies. By having more fulfillment centers close to the end consumer, companies can cut down on transit times and improve shipping speeds. Plus, these distribution centers are often highly automated, making them super efficient! Not only will MFCs make online shopping even easier for consumers, but they will also continue to shape the industrial real estate market in the years to come.
Multi-story warehouses
Compared to a standard warehouse, a multi-story facility has several stories above ground level which can be accessed via flight lifts, ramps, and conveyor systems. This makes it possible for smaller trucks to navigate the floors and load or unload cargo in designated access bays. Each layer works autonomously in this layout – streamlining your operations while enabling you to maximize available space.
For those with limited floor space and skyrocketing real estate costs, especially in large cities, multi-story warehouses are the ideal answer. This vertical structure takes full advantage of available floor area; usually, each level or story is around 10 meters high which may include various levels of racks or other storage systems for products.
Multi-story warehouses are typically crafted to meet individual customer needs and have become increasingly popular in urban markets due to the fast growth of e-commerce. Such vertical logistics facilities offer a necessary solution in busy metropolitan areas.
To meet the ever-growing need for speedy deliveries, multi-level warehouses close to populated areas have become a must. This is due to industrialization taking place at unprecedented speeds around the world and an increase in worldwide trade that requires both manufactured products and raw materials to be transported between different places. Not only are same-day shipments now expected by customers, but having these types of buildings also helps decrease transportation costs significantly.
Reverse logistics and returns
Rather than the logistics process which is centered around taking goods from a warehouse or manufacturer to the buyer, "reverse logistics" instead entails bringing items back from that customer to either their vendor or perhaps even into a donation center.
Reverse logistics are essential whenever a customer needs to send something back – whether it's because the product is broken, faulty, not the right size or they just don't like it. Shockingly, nearly 30% of all items purchased from online retailers end up being returned whereas in-store purchases have less than 10%.
As an e-commerce business owner, returns are bound to happen. It's time to create an efficient process that gives your customers a seamless and stress-free experience when returning their product, while also providing incentives for them to remain loyal even if the item didn't live up to their expectations.
If you give the same attention to your reverse logistics as you do to initial shipping, it is possible to surpass customer expectations. In doing so, the churn rate will be reduced and lost revenue can be retained in the long run.
Cold storage for perishable goods
Have you ever wondered how your groceries stay fresh? Or how do companies manage to transport perishable goods across long distances without them spoiling? Well, the answer lies in cold storage facilities. These industrial infrastructures are becoming an essential part of the e-commerce-driven industrial real estate industry.
With technology and automation continuing to revolutionize the way we do things, the demand for cold storage facilities is on the rise. And it's not just limited to food and beverage products. Pharmaceuticals, flowers, and other temperature-sensitive items require proper storage, making cold storage facilities crucial in ensuring that these products remain in good condition.
Challenges and opportunities
Balancing urbanization and distribution needs
Let's talk about the future of e-commerce and industrial real estate. It's an exciting time for this industry, but also a challenging one. One of the biggest challenges is finding a way to balance urbanization with distribution needs. With so many people moving to cities, it's important for e-commerce companies to have a strong presence there. However, that also means finding ways to efficiently manage distribution networks in both urban and rural areas. It's a complex issue, but one that we're confident can be tackled with a multi-faceted approach.
Here are some effective tactics that e-commerce businesses can use to find a balance between urbanization and distribution needs:
Utilize multiple distribution channels: To reach both urban and rural customers, e-commerce companies can leverage various distribution channels, like warehouses, fulfillment centers, and last-mile delivery networks for improved efficiency.
Optimize delivery routes: E-commerce businesses can reduce their delivery times and costs while maximizing the number of deliveries per trip by utilizing route optimization software. This is especially advantageous in cities where traffic delays are common, as it allows companies to plan routes that avoid busy roads or peak congestion hours.
Partner with local retailers: By partnering with local retailers, e-commerce companies can alleviate last-mile delivery costs and provide customers with more convenient options to receive their orders – such as pickup or delivery services. This kind of collaboration is a win for both companies, and it will ultimately result in greater customer satisfaction.
Invest in technology: E-commerce companies have the opportunity to take advantage of modern technologies like drones and self-driving vehicles to amplify delivery productivity while cutting back on costs. These innovations are particularly beneficial in more remote environments where deliveries tend to be longer, pricier, and less efficient.
Develop sustainable practices: Companies involved in e-commerce can take sustainable steps to lessen their ecological footprint such as utilizing electric vehicles and optimizing delivery routes. Not only does this have a positive effect on the environment, but it also presents long-term cost savings for businesses.
For any e-commerce provider to thrive, a comprehensive strategy that takes into consideration the need for urbanization and distribution is imperative. Such a plan must be tailored to meet each business's distinctive requirements as well as those of its targeted markets. Only with an optimal combination of these solutions – alongside other relevant measures – can companies achieve maximum success in their operations.
Adapting to evolving consumer expectations
Staying ahead of the game and adapting to ever-changing consumer demands is pivotal for success in this fast-paced marketplace. As technology progresses, so do consumers' expectations from businesses—what they offer, how they market it, and more. To ensure business growth and stay relevant in today's climate, here are a few strategies that can be incorporated:
Conduct market research: Staying aware of changes in consumer behavior and responses to your products is critical for success. To gain this insight, it's essential that you conduct regular market research to ascertain the needs, wants, and preferences of your customers. By doing so, you'll be able to recognize trends early on and make timely adjustments based on their feedback.
Use customer feedback: Gathering and carefully considering customer feedback is indispensable if you want to understand and address their needs. Utilizing surveys, focus groups, or other forms of customer input gives you valuable insight into how to improve your products/services – so don't miss out on this invaluable opportunity.
Embrace technology: As consumers become more accustomed to the convenience of technology, businesses must rise to the challenge by employing technologies like mobile apps, social media platforms, and AI-powered chatbots. These tools allow companies to deliver fast and efficient services that meet customers' expectations for rapid responses.
Offer personalized experiences: Consumers today anticipate experiences that have been tailored to their individual requirements and preferences. Utilize data analytics in order to comprehend your customers better, providing them with customized recommendations, promotions, and communications for a more immersive experience.
Prioritize sustainability and social responsibility: As customers become more and more aware of the effects companies have on our planet and communities, those that prioritize sustainability and social responsibility in their products and practices can easily draw attention from conscientious consumers.
Achieving success in today's world requires businesses to be adaptive and responsive to ever-changing consumer demands. By staying aware of the newest trends, incorporating customer feedback into product development, making use of technology advancements, providing personalized services, and promoting sustainability through social responsibility initiatives — companies can fulfill their patrons' expectations with greater ease.
Regulatory and zoning considerations
No matter the industry, jurisdiction, or precise location you are operating in, businesses must keep regulatory and zoning requirements at top of their minds. These differences can be considerable; here is a rundown of some essential considerations:
Licensing and permits: Any business wishing to set up a shop in a certain region must attain an array of licenses and permits, including zoning ordinances, construction papers, and health credentials – the list goes on depending on your sector and area. It's essential to take steps toward meeting these requirements before starting operations!
Zoning regulations: It is critical for businesses to comprehend the zoning laws in their local area so that they can guarantee compliance and stay within legal boundaries. Zoning regulations dictate where commercial real estate is permissible, how these companies may function, as well as what activities are accepted across all zones. Failure to adhere to the rules will lead to harsh penalties; therefore it pays off for entities of any size or types to familiarize themselves with zoning ordinances prior to commencing operations.
Environmental regulations: Depending on the type of industry and its geographic location, companies might be subjected to different environmental regulations. These can range from waste disposal laws to pollution limitation requirements as well as other ecological considerations.
Employment regulations: Staying informed on the ever-changing employment regulations, including minimum wage laws, overtime rules, and all other labor laws is vital for businesses to stay compliant and avoid hefty fines or legal complications. By remaining up-to-date on these guidelines you can protect yourself from any potential pitfalls that may arise in the future.
Safety regulations: Ignoring safety regulations such as fire safety codes and building codes can be costly for businesses, with potential penalties ranging from hefty fines to the closure of the business. Furthermore, if an accident or injury occurs due to neglectful disregard of said standards, this could potentially lead to serious legal consequences.
Ultimately, companies should carefully research and comprehend the regulatory and zoning criteria of their desired area prior to making any decisions. Consulting with local authorities, zoning professionals, as well as legal advisors is a suitable means for organizations to ensure that they are meeting all obligations while running legally and securely in that region.
Impact of economic fluctuations
As digital shopping continues to expand, merchants must discover inventive ways of distinguishing themselves from their rivals. It is essential for them to recognize what makes their products unique and cultivate captivating experiences that bring customers back time and again.
By incentivizing customers to shop directly and support online retailers, e-commerce gives a tremendous boost to the economy. Productivity is improved, innovation is stimulated and the shopping experience becomes more enjoyable – all of which contribute to creating greater economic growth.
Evidently, e-commerce can be imperative for catalyzing economic development. Furthermore, it has been that commerce penetration is found to bolster the income and expenditure of consumers all over the planet. Thus, this suggests that availing of these services could result in substantive gains for a nation's economy.
As countries experience economic expansion and technological advances, e-commerce businesses are keeping pace by flourishing. This positive correlation between the two demonstrates that as e-commerce penetration levels improve, so do user engagement and business numbers – resulting in a perpetual cycle of growth for all involved.
Consider the potential of a 1% productivity increase in Asia's services sector. This could have a remarkable outcome, resulting in $12 billion in welfare gains, GDP growth of 0.4%, an equivalent wage uplift, and additional economic progress worth $12 billion! It is thus evident that e-commerce has immense power to reduce costs and time constraints while optimizing efficiency – consequently becoming a powerful instrument for development.
By leveraging e-commerce, businesses can save time and money while providing customers with seamless access to overseas markets. This helps boost economic expansion as commerce demand and more exports and production are created.
Strategies for success in eCommerce-driven industrial real estate
Location and accessibility
When it comes to eCommerce-driven industrial real estate, location, and accessibility are more important than ever. With online shopping becoming the norm, warehouses, and fulfillment centers need to be located in areas that are easily accessible for quick and efficient deliveries. In addition, proximity to major transportation hubs and routes is crucial for speedy shipping and receiving. Finding the right location can make all the difference in the success of a business. However, it's important to not only consider the physical location but also the technology and infrastructure available in the area.
Workforce considerations
The future of eCommerce-driven industrial real estate is promising. However, success in this industry requires careful consideration of various strategies. One of the strategies you should not ignore is workforce management. As your industrial real estate operation grows, so should your workforce. An expanding business needs more hands on deck to handle the increasing demands of e-commerce.
As such, you must not only plan for space expansion but also for workforce expansion. Considering the right workforce strategies that align with your business goals is key to thriving in eCommerce-driven industrial real estate. Whether it's hiring on-demand employees, implementing automation, or outsourcing tasks, these considerations will help streamline your operations and ensure your business is operating at maximum efficiency.
Facility design and optimization
Crafting a consistent and successful plan for the eCommerce-driven industrial real estate sector requires far more than merely procuring warehouse space and stocking it with goods. To succeed, one must have an intimate understanding of how to optimize that area, learn methods to select items quickly while packing them effectively and understand exactly how swiftly packages can be sent out in order to meet customer expectations.
But there's more to it than just the logistics. Key to eCommerce success is also having the right workforce in place. From warehouse personnel to customer service representatives, having the right people with the right skills can make all the difference.
Building strong partnerships
As we look to the future of the eCommerce-driven industrial real estate, one thing is for certain: there will continue to be a strong demand for space as online sales and distribution continue to grow. To stay ahead of the curve, it's important for businesses to adopt strategies for success in this ever-changing industry.
One key strategy is building strong partnerships. By partnering with other businesses that complement your operations, you can expand your reach and better meet the needs of your customers. Whether it's collaborating with a logistics company to streamline shipping or teaming up with a specialized vendor to improve product offerings, strong partnerships can help drive eCommerce success in industrial real estate.
The Future of E-commerce-Driven Industrial Real Estate FAQs
How is reverse logistics affecting the industrial real estate market?
Optoro estimates that reverse logistics requires 15 to 20 percent more space than traditional outbound supply chain operations, creating further strain on the tight industrial real estate market and raising rents in its wake.
What are the challenges and opportunities in the eCommerce-driven industrial real estate sector?
Challenges in the eCommerce-driven industrial real estate sector include the need for more efficient logistics, increased competition for prime locations, and changing customer demands. However, opportunities exist for developers to repurpose existing properties for last-mile delivery, build new facilities optimized for eCommerce needs, and leverage technology to improve supply chain efficiency.
How can location and accessibility affect the success of an industrial real estate investment?
If you are considering investing in the industrial space or real estate, the success of your venture may rely heavily on location and accessibility. Proximity to major transportation hubs or densely populated areas can improve efficiency while reducing costs due to easier access for customers and suppliers. Furthermore, properties situated in sought-after locations could increase their value over time, leading to lucrative long-term capital gains!
What workforce considerations are important for industrial real estate?
When it comes to industrial real estate, the availability of skilled labor and public transit access can be a major factor in attracting and retaining top talent. Areas with an abundant workforce market have a greater ability to provide employees with secure, pleasant workplaces that help boost morale and amplify productivity. If you're looking for success in your business venture, strategically positioning yourself near these advantageous locations is key!
What role do partnerships play in the success of eCommerce-driven industrial real estate?
Partnerships can play a critical role in the success of eCommerce-driven industrial real estate. Collaboration between eCommerce companies and real estate developers can result in the creation of customized industrial spaces that meet the unique needs of the eCommerce industry.
Also, partnerships with logistics and transportation companies can help improve supply chain efficiency and reduce last-mile delivery costs. Collaboration with local government and community organizations can also help address workforce and infrastructure needs.
Overall, partnerships can enable industrial real estate investors and developers to leverage the expertise and resources of other players in the eCommerce ecosystem to create successful, innovative solutions.
What are the predictions for the future of this sector?
The industrial real estate sector is predicted to see increased demand for last-mile delivery facilities, expansion of automation and robotics, growing emphasis on sustainability, continued focus on workforce development, and expansion of data analytics and technology to optimize supply chain efficiency and improve customer experience.
Conclusion
E-commerce-driven industrial real estate is the wave of the future and it appears to have some staying power. It has grown exponentially over the last ten years, and many industries are leaning toward this trend. It is important for those interested in investing or just wanting to learn more about this to stay abreast of trends and the news surrounding this industry.
There are many resources available for those wishing to gain a better understanding or learn more about investment opportunities within this space. If you're looking for an experienced partner to help with your next industrial real estate project, don't hesitate to reach out and contact me now! I'm here to help answer questions and guide you through the process from start to finish. Call or Schedule a free consultation today, so you can gain a better understanding of how we can help with your projects.