Are you interested in learning how to wholesale commercial real estate? If so, you have come to the right place! In this blog post, we will walk you through step by step how to get started in the world of Wholesaling Commercial Real Estate. We will cover everything from finding deals to putting together offers, to closing the deal. So if you are ready to learn, let's get started!
Wholesaling is an investing strategy for real estate where the wholesaler finds properties that are in commercial distress, puts the property under contract, and profitably sells that contract to another investor or end-user.
Key Takeaways
Commercial real estate is an asset class that, like any other, benefits from careful planning.
Learn the similarities and differences between the residential and commercial real estate markets.
As a wholesaler, you do not have to invest as much money as you would if you were purchasing the property.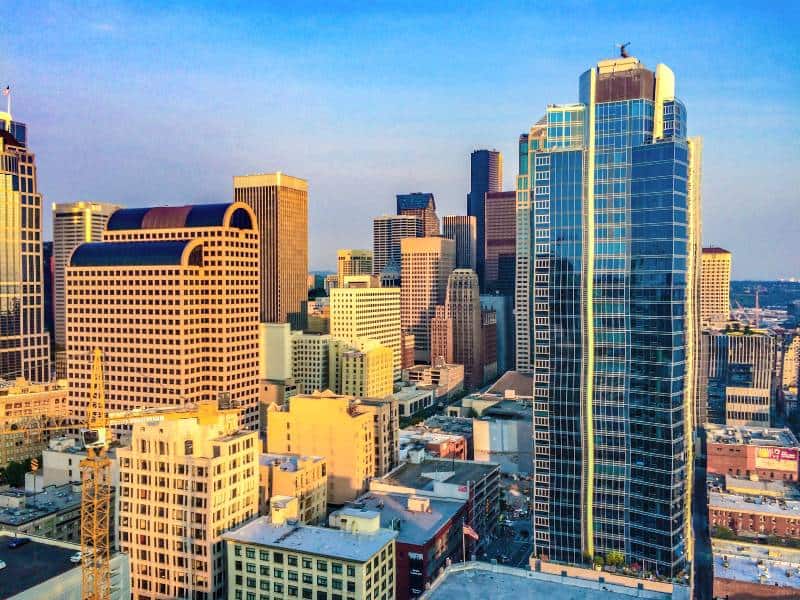 What Is Wholesaling?
For those looking to make a quick and steady profit in the real estate market, wholesale real estate is a viable short-term business strategy.
For a negligible down payment of "earnest money," a real estate wholesaler will enter into a purchase agreement with a seller. The contract details the wholesaler's selling price and the specified time frame for the sale.
To put it simply, wholesale real estate is a short-term business strategy that allows investors to generate a steady stream of income from the real estate market.
For a negligible down payment of "earnest money," a wholesaler will enter into a purchase agreement with a seller of real estate. The contract details the wholesaler's selling price and the time frame within which the property must be sold.
Why Wholesale Commercial Real Estate?
Less Money Out of Your Pocket
As a wholesaler, you do not have to invest as much money as you would if you were purchasing the property.
Naturally, you will have to pay to generate the leads, which we will discuss in a moment.
Additionally, you will need to pay for the earnest money deposit, if one is required, and any due diligence you believe will help you sell the property more quickly (such as surveys, marketing materials, title searches, and so forth).
But apart from that? You have minimal responsibilities!
Bigger profit margins
Wholesalers don't participate in commission-based sales; rather, they set their own prices for properties.
A wholesaler may offer a site to investors for $125,000 if the asking price is $100,000 and the market value is $140,000. Since the wholesaler will make a gross profit of $25,000, and the buyer will save money by preventing the project from going to market, both parties have an incentive to act quickly.
Commission-based real estate agents may only net $3,000 to $6,000, while a wholesaler can make up to eight times as much.
Also, a wholesaler's markup in the six figures is not unheard of for particularly large commercial deals.
Fewer Competitors
There is not a lot of activity in the wholesale market for commercial property.
Now, there are certainly some reasons for that, which we'll discuss below; however, with fewer competitors comes a vast, untapped market for you to exploit.
Since the market can only support so many commercial real estate brokers, competition for jobs is fierce in this field.
And since there are many investment firms competing for the same deals, the prices tend to rise.
You won't have to worry about small businesses stealing your wholesale customers because you'll be cooperating with the big players.
The Disadvantages of Wholesaling Commercial Real Estate
Sourcing Sellers Can Be Difficult
The first step in wholesaling commercial real estate is finding the property. This is not always easy, and it can take a lot of time. Some wholesalers specialize in finding properties that have already been listed by owners, but most will have to do their own research to find potential sellers.
Finding sellers can be especially challenging if you're looking for distressed properties. These are often owned by people who have fallen on hard times and are trying to sell quickly so they can get out from under the debt associated with their property. It can also be difficult to find sellers who are willing to work with you as a wholesaler.
Sourcing Buyers Can Be Difficult
We've all heard the saying, "Selling is half the battle." But when it comes to wholesaling commercial real estate, finding buyers can be just as tough as selling.
When you're wholesaling, you need to find a buyer who is willing to purchase the property at a discount. This means you need to know your market and how much money potential buyers in that market are willing to spend on any given property. If you don't know what the going rate for that type of property is, you'll have trouble finding someone who's willing to buy it at your price point.
Wholesaling Can Be Questionable
In general, wholesalers operate ethically.
But there are a few who have contributed to the widespread negative perception of the practice.
Unscrupulous wholesalers rarely face repercussions because they are not subject to oversight by a real estate commission or any other governing body.
What this means is that a wide range of unethical actions are taken.
Transparency is key in the commercial real estate wholesaling process to ensure that no one feels misled or taken advantage of.
Obviously, a name like that would be bad for you.
How to Wholesale Commercial Real Estate
1. Locate a Real Estate Property
The first step in wholesaling commercial real estate is to locate a property that you believe will make an excellent investment. While this can be done through a variety of methods, there are three primary ways:
1) Place ads in newspapers or on Craigslist and other sites that list properties for sale.
This may be the most time-consuming method, but it can also be very effective if done correctly.
2) Ask a real estate agent to show you properties that meet your criteria for purchase.
In some cases, this can be more cost-effective than placing ads yourself because many agents have access to listings that aren't yet available online or in print publications.
3) Use an online service like LoopNet to search for properties based on your preferences (e.g., location).
If you're going to be searching for commercial real estate, it's important that you use an online service to help narrow down your search. LoopNet is a great choice because it allows you to search by property type, price range, and other factors that might be important.
2. Inspect the Property
The next step is to inspect the property. You need to make sure that it's in good condition, and that it has enough space for you to use to store your products. If there's a problem with either of these things, it can be very expensive to fix them and make them suitable for your needs. So do some research before you start looking at properties!
3. Do a Comparable Property Analysis
The third step is to do a comparable property analysis. This involves comparing the property you're looking at with other properties that are similar to it. For example, if you're buying a warehouse in a certain part of town, then look at other warehouses nearby and see what they're selling for. You'll be able to get an idea of whether or not the price for this one is reasonable (or if it's too high).
4. Calculate the Number
Once you know what type of property you want to buy and its location, you need to calculate the number of units in the building.
For example, if you are interested in buying retail space, make sure it has enough space for all your products.
It is also important to note that some buildings do not have a specific number of units. This means that they might be renting out their space on a month-to-month basis or that they may be leasing part of the building out while they occupy another section themselves.
In this case, you need to look at the amount of square footage available and decide whether it will fit your needs based on what type of business you plan on opening up there.
5. Find the owner of the property
In order to wholesale commercial properties, you need to be able to contact the owner of the property. You can do this by making a phone call or sending a letter. The best way to find out who owns a property is by doing some research online. If you can't find any information online, then call the county clerk and ask them who owns it.
If you have trouble finding out who owns it, then try calling the local building department. They should have records of all of the permits that have been issued for that property, which will give you an idea of who owns it and if there are any liens against it.
6. Evaluate the property's renovation requirements
. After you find out who owns the property, you will need to evaluate the renovation requirements. This can be done by looking at the property's physical condition and comparing it with other similar properties in your area. If there are no other similar properties nearby, then try searching online for comparable properties that have been renovated recently.
7. Negotiate A Contract with The Seller
Once you have reached a good price, you should ensure that the contract states clearly what is included in the sale and what is not. You will also need to make sure that all of your questions about the property are answered before proceeding with the purchase.
8. Market Your Property to Potential Buyers
Once you have found a buyer, it is important to market your property in the right way. You should consider having professional photos taken of the property so that buyers can get an idea of what kind of home they will be buying.
9. Assign the Contract
After you have sold your property, it is important to assign the contract. This means that you will sign over ownership of the property to the buyer and make sure that they receive all of their money from the sale.
How to Calculate the MAO of Wholesale Real Estate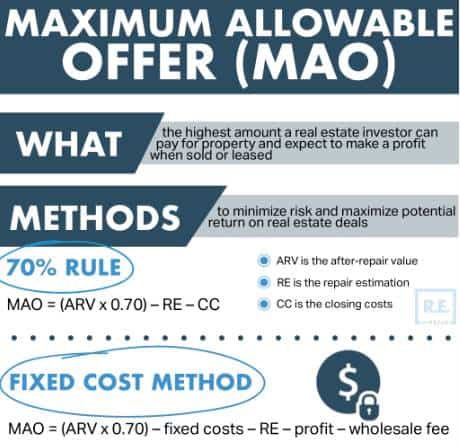 For real estate investors, the Maximum Allowable Offer (MAO) is the highest price they would be willing to pay for a property before losing money on the deal.
The 70% rule is a popular MAO calculation method.
According to the 70% rule, a buyer shouldn't pay more than 70% of a home's after-repair value (ARV) minus the cost of repairs.
When the ARV of a property is high, as in $250,000 or more, investors may choose to lower the percentage to 75%. In extremely competitive markets, they might even use 75%.
Land investors typically deal with properties with much lower market values, so this rule can be lowered to as little as 10% to 30%.
Below is an example of the MAO formula that adheres to the 70% rule:
The MAO formula is: MAO = (ARV x 0.7) – RE – CC
Where:
The value following repair, or ARV
What is meant by "RE" is "repair estimate."
What we call "closing costs" abbreviates as "CC."
Marie, for instance, has found a house that she intends to fix up and rent out. The estimated cost to repair the property is $25,000, while closing costs are estimated at $2,000.
According to the 70% rule, the most she could be offered is $81,500 ([$155,000 x 0.70] minus [$25,000 x 0.70] plus [$2,000 x 0.70]).
Any MAO calculation is only as good as the values the investor uses, so it's crucial to do a thorough job of estimating the property's after-repair value, estimating repair costs, and calculating closing costs upfront.
Why Sellers Would Agree to Wholesaling
You can wholesale a seller's property if you can convince them of a few key points.
Potential problems with the property include the need for expensive repairs that would make it unattractive to traditional buyers. In this case, wholesalers may be a viable option because they have connections to investors who are actively seeking opportunities like this.
It's also possible that the owner is struggling. Perhaps they are years behind on their mortgage or tax payments.
Perhaps they just need the cash quickly for an unexpected expense. If you're looking for a way out of that situation, wholesale is a viable option.
When dealing with unsophisticated sellers who may be unaware of the true value of their property, wholesalers may enter a murky area, if not outright break the law.
Let them know the truth about the property's potential retail value after renovations, the current value of the property, and the price you'll need to secure in order to turn a profit on the project.
The Ideal Commercial Wholesale Deal
1. Priced Under Market
The ideal wholesale deal will be priced below market value, but not so far under that the buyer can't make a profit. If you're looking for an investment property, this is important because it will give you a return on your investment and allow you to sell the property at retail in the future if necessary.
2. Rent Upside Potential
The ideal wholesale deal will have a rent upside potential. This means that the buyer should be able to increase the rent after renovations and still turn a profit on their investment. If you're looking for an investment property, this is important because it will allow you to sell the property at retail in the future if necessary.
3. In a Good Neighborhood
The ideal wholesale deal will be in a good neighborhood that has a large and diverse tenant base. This is important because it will allow the buyer to rent out the property for a profit and still turn a profit on their investment.
Mistakes to Avoid When Wholesaling Commercial Property
Failing to perform due diligence
You might as well be the one to investigate the property for potential problems.
During due diligence, a buyer may discover information that causes them to rescind the contract and leave you high and dry if you are unprepared.
The best strategy is to get started on this right away.
Overvaluing the property
Just because the property is in a good location does not mean that it is worth what you think it is. The best way to determine its value is by using a comparable sales analysis, but even then you can still get it wrong.
Being lazy after contract assignment
Just because you have a contract does not mean that you can sit back and relax. You may have been diligent up until this point, but now is when things get serious. This is the time when you need to pull out all the stops to make sure that everything goes smoothly and nothing goes wrong.
Wholesaling Commercial Real Estate FAQs
The following are some of the most frequently asked questions about Wholesaling Commercial Real Estate.
Is wholesaling real estate still profitable?
Yes, wholesaling real estate is still a viable strategy. There are thousands of investors who make their living from this business model and continue to do so every day.
Can a beginner do wholesaling real estate?
Wholesale real estate is a great way for newcomers to the real estate industry to get their feet wet with minimal risk and a high potential return. Some people find wholesaling to be so rewarding that it becomes their primary source of income.
How difficult is wholesaling real estate?
If you're willing to put in the time and effort, real estate wholesaling can be a lucrative business venture. Although there is little to no danger in wholesaling, a substantial amount of work is required to see a satisfactory profit.
Finding properties that are being sold for significantly less than their market value, negotiating deals with sellers, and finding cash buyers who are willing to buy those properties all contribute to the difficulty of running a successful wholesaling business.
To be successful in wholesale, you need to be willing to put a lot of time and effort into gathering quality leads, networking, and carefully curating your list of wholesale buyers. Real estate wholesaling can be very profitable for those who are willing to put in the time and effort to learn how to do it properly.
Conclusion
The commercial real estate industry is a great way to make money and step into the world of real estate investing. By following the steps outlined in this guide, you can be on your way to becoming a successful commercial real estate wholesaler. If at any point you need help or have questions, don't hesitate to give me a call or schedule a free consultation. I'm here to help you succeed!